News and updates from the MDA community
MDA Muscle Walk: Why I Walk
"There isn't a day that goes by where Bryce doesn't apologize for 'being the way he is' or for having to ask for help. As a mother, it simply breaks my heart that Bryce feels this way, and there isn't much I can do to help him feel better, nor [do I] have a good answer to his questions. But I can be fierce and try to raise as much money as possible so he can go to MDA Summer Camp, where for six days these questions never enter his mind. And I can be relentless and raise as much money as possible to get a step closer to finding a treatment and maybe even a cure for this devastating disease." —Kelly Madsen, mother of Bryce, who was diagnosed with spinal muscular atrophy (SMA) at 15 months. 
This year, approximately 150 Muscle Walk events will take place across the country, featuring more than 12,000 teams and 40,000 registered participants coming together to walk and raise money for MDA. Visit the MDA Muscle Walk site to get involved in a 2016 walk. 
A Math Champ: Ben Lou earns a gold medal in the World Math Team Championship without a pen or paper
For Ben Lou, who received a diagnosis of spinal muscular atrophy (SMA) around his first birthday, going to China and speaking in front of 1,000 of his peers at the fifth annual World Math Team Championship last fall didn't really make him nervous. It was the math competition itself that he was worried about.
"[The speech] wasn't as nerve-wracking [as the competition]," says Lou, 12, who lives with his mother, Jenny Huang, in Southern California. "I had just come back from the Great Wall and took a two-hour nap, so I had to be dragged awake to make it in time to the ceremony [where I gave the speech]. My voice was a little croaky and I wasn't very loud, but luckily it was translated into Chinese by someone with a louder voice."
Lou spoke to the crowd about his life and family in California, and about those living with SMA in China, to help bring more public attention to the disease and the need for better educational rights for people in China living with a disability. According to a 2013 Human Rights Watch report, more than 25 percent of children with disabilities in China do not receive even a basic education.
Lou received this opportunity by catching the eye of a recruiter after scoring in the top 2 percent of competitors in the American Mathematic Competition 10, at just age 10. This eventually led to Lou becoming a member of the U.S. Junior Team for the World Math Team Championship in Beijing, which was held in November 2014. 
Putting Lou on the roster ended up being a smart decision, as he was the only member of the American team to receive a gold medal, and individually he scored 13th out of a total of 271 competitors. While most would be ecstatic with those results, Lou actually felt he could have done better.
"I made a stupid error where I only wrote one answer when there were two," he says. "If I hadn't made that error, I might have gone way higher."
Lou's success is even more impressive when you consider that he does all of this math in his head. Because of his SMA, he can't work problems out on paper the way the vast majority of his peers can. However, that clearly hasn't been an insurmountable problem for him.
"I guess I just have more practice than most people, and some talent," Lou says humbly when asked how he does complex math in his head. "Because I can't really write, I'm forced to do it in my head, and that's how I got good at it."
Since November, Lou has participated in other math competitions, one of which was the Math Kangaroo International Competition in March, where he had a perfect score. He was also one of very few sixth-graders asked to attend the 40th annual American Regions Mathematics League Competition at the University of Nevada, Las Vegas in
May, where he was a part of the San Diego team.
But math isn't the only thing that Lou enjoys. He has a wide range of interests that includes writing fiction and poetry, watching sports (particularly tennis), learning about science and the universe, and eating and observing the fresh fruits and vegetables that Lou and his mom grow in their yard. As far as the future is concerned, along with competing in more math events, Lou is interested in getting involved in science and inventing.
"I have several ideas," he says. "My most recent idea is a wind-powered car. Everyone's thinking about solar-powered cars, but I don't know why no one thought of wind-powered cars."
Brotherly Love: National fraternity Kappa Alpha Order celebrates 40 years as an MDA partner
Since 1975, the Kappa Alpha Order fraternity has partnered with MDA as a national sponsor to raise funds and awareness for muscular dystrophy and related diseases that limit muscle strength and mobility.
"Kappa Alpha Order is proud of its 40-year partnership with MDA," says Kappa Alpha Order Executive Director Larry Stanton Wiese. "Service to our communities is one of our core values, and we know that giving back is a significant component of a man's development in college. This relationship provides each of our 129 chapters across the country a unique, yet common support focus, in a national philanthropy."
Kappa Alpha has raised more than $2.7 million for MDA and participated in a wide range of MDA events, including Muscle Walk, Pin-Up programs like MDA Shamrocks, letter-writing campaigns and other special fundraisers they host. The fraternity also has a personal connection to the cause, as former MDA National Youth Chairman Luke Christie is an alumnus of the chapter at Furman College in South Carolina.
"This partnership is really important," says Tracey Gianelli, MDA national vice president of organizational partnerships. "One of the things we're proudest of is it's a group of young guys, a fraternity, that has stuck with MDA and supported us. We're fortunate to have them as partners for so long, and it helps us because we know we'll have ongoing support from them. It's not just this year [that they're fundraising for us], but they support MDA year after year."
MDA is proud to work with incredible partners and local businesses to build stronger communities and uncover urgent answers for families who are desperately counting on us.
Fighting the Flu: MDA offers flu shot reimbursement and more
Flu season is approaching, and for people with neuromuscular disease, it's particularly important to be prepared because influenza can be a serious and sometimes life-threatening illness. However, be sure to talk with your doctor before receiving the shot, as you would with any vaccine.
If your current health coverage doesn't include the flu vaccine, MDA's Flu Shot Program will reimburse the cost of your flu shot up to $35.
For more information about the program and the flu in general, visit MDA's Flu Season Resource Center.
Making His Way: Ray Spooner raises money for MDA with a cross-country bike ride
When Ray Spooner, a certified nurse-midwife from Urbana, Ill., visited with his neurologist in January to discuss his recent ALS (amyotrophic lateral sclerosis) diagnosis, the doctor suggested it may be time for him to start checking things off of his bucket list. Spooner took that advice to heart and began prepping for a coast-to-coast bike ride. "I'm a nutcase for cycling," he says. "I've been assured by most people that riding 100 miles before lunch isn't normal human behavior."
Spooner decided to use MDA's new Your Way for MDA program to raise money through his ride to help support MDA's efforts to find treatments and cures. Your Way for MDA gives MDA community members the ability to set up their own special fundraising projects online and solicit donations through social media and email, as well as in-person requests. Spooner and his family and friends, some of whom will be making the journey with him, either riding along or providing support, raised more than $29,000 before departing for the more than 3,000-mile bike ride from San Diego to St. Augustine, Fla., this October.  
"MDA supporters can turn their everyday activities into a fundraiser with Your Way for MDA," notes Natalie Stamer, MDA's national vice president of online fundraising. "No one is restricted by organization-led events, but instead, supporters can use their imagination and raise money to help find a cure for people with neuromuscular diseases."
Do you have a great idea for a fundraiser? Visit the Your Way for MDA website to find out how you can launch your own Your Way for MDA fundraiser.
Going the Distance: A Hollywood film editor creates an inspiring documentary about his friend and former MDA National Goodwill Ambassador
When Zack Arnold, a film editor currently working on season two of the hit FOX TV series "Empire," attended his friend Chris's funeral in 2007, he had no idea it would inspire him to create a documentary. Arnold's friend was Christopher Rush, a former MDA National Goodwill Ambassador. Diagnosed with muscular dystrophy at seven months, doctors told Rush's parents he would barely make it to age 2. Defying the odds, Rush lived to age 30 and achieved many of his goals, such as learning to scuba dive, graduating from law school and spreading positive messages about people living with disabilities.
Arnold first met Rush in a film production course at the University of Michigan.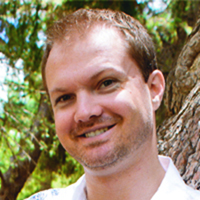 "Other students were saying 'I hope he's not in our group,' and that made me angry," says Arnold. "So I approached him and invited him to join our group, and that was easily the single most life-changing decision I've ever made. He's the best producer I've ever worked with and he has a great sense of humor, and since then we were personal friends."
While Arnold and Rush's friendship continued past college — the last time Arnold saw Rush was at Arnold's wedding, where Rush was a groomsman — Arnold didn't realize how much Rush had accomplished throughout his life until he heard people talking about Rush at his funeral.
"I knew very little about what is in the film when he was alive," says Arnold. "When he was being eulogized, I was astounded. Someone mentioned there is a [goal-setting] program he was working on called 'GO FAR,' and that hit me like a lightning bolt. That began the journey of making this documentary."
So Arnold had his idea and his title, however the rest of the creation of the documentary, which is his directorial debut, did not come as easily. 
"I can't even begin to list [the challenges]," says Arnold. "Nobody believed that without a movie studio or distribution or money that you could tell the story properly. But I really ended up using [Rush's] GO FAR program where you take your ultimate goal and break it down into small, achievable tasks."
Doing this, Arnold put the documentary together in bits and pieces over the last seven and a half years, jumping over each new hurdle that came up along the way. Eventually, he was able to pull all of the pieces together, even securing Mark Hamill as the narrator of the film — a fitting role because Rush was a huge "Star Wars" fan and loved the idea of The Force. Hamill not only donated his fee on the film back to the project after hearing about its inspirational backstory, but he also helped Arnold get the rights to use footage from "Star Wars" in the film, which many people told him would be impossible to do.
Now that the film is completed, Arnold is enjoying sharing it and Rush's message with a wider audience.
"Chris was someone who was really good at distilling things down, and he loved quotes," says Arnold. "The film has a lot of external quotes, but the one that I really think synopsizes the film is from Chris: 'Everyone has a disability.' [His may have been more readily noticeable,] but every person has some form of disability, and he wanted to inspire people to realize they could overcome these disabilities and achieve their goals. That's where GO FAR comes from."
A portion of the proceeds from the film will go toward funding a scholarship in Rush's name. 
Wish Granted: MDA family goes on a Hawaiian adventure, thanks to Make-A-Wish
When 9-year-old James Albaugh, who lives with Duchenne muscular dystrophy (DMD), first learned about volcanoes in school, he was fascinated by the idea of these lava-spewing mountains. While he enjoyed learning more about volcanoes online, James longed to see one up close and in person.
And recently, Make-A-Wish granted that very wish, making it possible for James and his family to travel from California to Hawaii.
The Hawaii trip, attended by the entire Albaugh family — James' mom and dad and three siblings, one of whom, 5-year-old Jayden, also has DMD — included, of course, a chance to see volcanoes. But the family also enjoyed snorkeling, a helicopter ride for better volcano viewing, a 12-hour van tour around the islands, and the water slides and pool at their resort.
"It [helicopter] was a lot of fun," says James. "I'm the only one who didn't get sick. I got to sit up front and help the pilot."
James became interested in volcanoes after learning about them in school and researching them on the Internet. He was surprised, however, that the lava wasn't glowing when he saw it up close for the first time. James' mom says he learned about the different types of volcanoes, and that the lava was black and gray in the daytime, which was a little different than James had envisioned. But at night, they saw the bright red lava flowing, so that was a definite plus.
"One thing I want to point out is how amazing everyone was to us when they found out we were part of Make-A-Wish," explains Jamie Albaugh, James' mom. "They accommodated us in every way possible. The trip itself was absolutely amazing and so generous."
The trip marked another exciting adventure in James' summer, as he also attended MDA Summer Camp, where archery, the talent show and meeting members of the MLS' Los Angeles Galaxy were some of his favorite activities.
For information about Make-A-Wish referrals, consult your MDA clinic team and visit wish.org/refer-a-child, or wish.org/local-chapters to find your local chapter.
Why I Run with MDA Team Momentum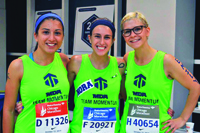 "Six years ago, I lost my brother, Kyle, to Duchenne muscular dystrophy. He was one of the most amazing people I have ever known, and he is my motivation. Despite his disability, he had a joyful spirit and an attitude of determination. When I grow tired during training, his memory keeps me going. I run for those who can't — to bring hope and joy to those with muscle disease. Being a part of Team Momentum feels right. The opportunity to train alongside my teammates who are also running for a cause so close to my heart has been amazing, and I feel so honored to be a part of this incredible team." — Emily Garcia, Team Momentum member running in the 2015 Chicago Marathon (also ran in 2014 Chicago Marathon)
Upcoming Team Momentum Events:
Metro PCS Dallas Marathon and Half-Marathon — Dec. 11, 2015
Boston Marathon  — April 18, 2016
Colfax Half & Full Marathon  — May 15, 2016
Michelob Ultra Chicago Spring 13.1 — May 22, 2016
Boston's Run To Remember — May 29, 2016
Visit the MDA Team Momentum page to join or support MDA Team Momentum, and be sure to follow us on Facebook, Twitter and Instagram.
Conquering Kilimanjaro: A Jiffy Lube owner/operator and his son make the climb to raise awareness, funds to help fight neuromuscular disease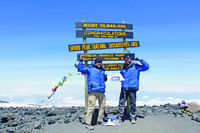 Rob Curry, owner and operator of 19 Jiffy Lube locations throughout Southern California, has long been a supporter of MDA through his business and the MUSCLE UP campaign. Recently however, he made his MDA connection more personal. He and his son, Bobby, decided to challenge themselves to hike Mount Kilimanjaro in Tanzania — which at over 19,000 feet is the highest mountain in Africa — as a fundraiser for MDA.
"We had been thinking about doing a long hike, and it coordinated with [my son's] graduation from high school," says Curry. "We thought it would be great to partner with a group, and MDA came to mind because of Jiffy Lube and the muscle connection. It goes hand-in-hand."
Even though Curry and his son are both Eagle Scouts, they still took training for the climb very seriously.
"I lost 20 to 25 pounds, and I was training almost every single day in the last six months," Curry says. "At Jiffy Lube, we do a lot of goal-setting, and I took this on as if I was going to do another project at work. Every month I would sit down and see [where I was physically], and if I didn't make my goals, I knew I would have to reset the future goals."
Curry attributed their success on the hike, which culminated in them placing an MDA flag at the summit of Mount Kilimanjaro on July 10, to this planning. And while placing the flag and raising over $6,000 for MDA — their goal was one dollar for every meter of Kilimanjaro's 5,985 meter height — were certainly highlights of the hike, Curry also relished spending time with his son.
"After a hike we'd get to camp and have dinner and have two or three hours to play chess, hang out, talk and things like that," he recalls. "At home, he's a senior in high school; there's a lot of stress of applying to college and playing sports, but on the hike we just had one goal: finishing the hike."
Do a Little Time, Do a Lot of Good: Consider going behind bars to support MDA through a Lock-Up event
In MDA Lock-Up events, local business and community leaders agree to be "arrested" for having big hearts. These do-gooder jailbirds then encourage their family members, friends, co-workers and neighbors to get involved and help raise "bail" money — which supports MDA's lifesaving mission.
MDA Lock-Up offers participants a unique, playful way to rally communities to raise funds for people with neuromuscular diseases, helping accelerate progress in research, care and support for MDA families in hometowns across America.
To get started, simply email lockups@mdausa.org to express your interest, and an MDA representative will respond and provide all the details you need to launch your own Lock-Up event and start fundraising.
MDA Resource Center: We're Here For You
Our trained specialists are here to provide one-on-one support for every part of your journey. Send a message below or call us at 1-833-ASK-MDA1 (1-833-275-6321). If you live outside the U.S., we may be able to connect you to muscular dystrophy groups in your area, but MDA programs are only available in the U.S.
Request Information