About Us
Our mission is to empower people living with neuromuscular diseases to live longer, more independent lives.
Muscular Dystrophy Association Announces Formation of Strategic Medical Advisory Team of Experts in Neuromuscular Care and Research
Barry Byrne, MD, PhD, will serve as Chief Medical Advisor; John W. Day, MD, PhD and Matthew B. Harms, MD, to serve as Medical Consultants
Dr. Byrne to lead a Facebook Live Conversation on Thursday, April 2 about how people living with muscular dystrophy, ALS and related neuromuscular diseases can navigate the world during the COVID-19 crisis
NEW YORK, April 2, 2020 /PRNewswire/ -- The Muscular Dystrophy Association (MDA) announced today the formation of its formal Medical Advisory Team who provide MDA with strategic guidance on issues that impact research and clinical care for people living with muscular dystrophy, amyotrophic lateral sclerosis (ALS) and related neuromuscular disorders – more than 43 diseases. Each of the team members is a leading clinician at an MDA Care Center and is an internationally known expert in muscular dystrophy, ALS and related neuromuscular diseases. The MDA Care Center network spans over 150 locations at the nation's top medical institutions.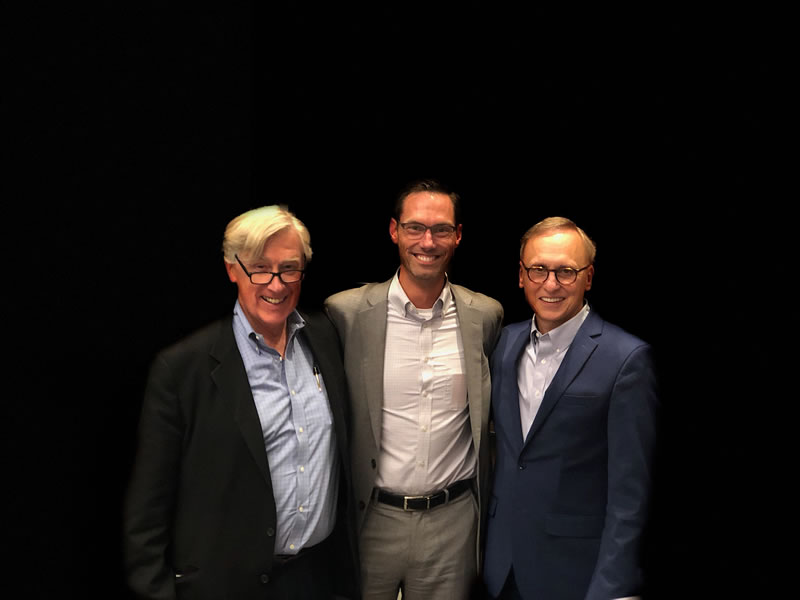 "We believe that engaging this team of world-class experts across neuromuscular diseases will enable MDA to lead the way in speeding the development of groundbreaking therapies and treatment paradigms that will transform the lives of those we serve," says Lynn O'Connor Vos, President and CEO of MDA. "These physicians are pillars of the neuromuscular disease community, each with focused expertise in specific diseases. Together, they will provide critical advice to MDA on our innovations in science and care programs and help ensure that we are making the maximum impact as the landscape of neuromuscular research, care and treatments evolve."
MDA's medical advisors will help lead the effort, along with more than 2,000 health care providers, to establish new clinical trials geared toward integration of MDA's innovative MOVR technology hub, which allows clinicians and researchers to share a wealth of disease-related information, establish professional protocols, and accelerate innovation.
Tonight, Dr. Barry Byrne, who will serve as chief medical advisor for the team, is joining MDA's EVP, Chief Advocacy & Care Services Officer, Kristin Stephenson for an MDA Facebook Live conversation about the precautions and best practices needed to protect the neuromuscular community in light of COVID-19. The event, scheduled for Thursday, April 2 from 6:00 to 6:30 pm EDT is accessible at https://www.facebook.com/MDAOrg/. The recording will be available for viewing after the event on MDA's COVID-19 resource page. The conversation will feature a live Q&A answering questions from people living with muscular dystrophy, ALS and related neuromuscular diseases including MDA families, and aims to provide the answers to questions regarding care during these uncertain times, and will cover topics related to preparedness, community impact, telemedicine and MDA's Care Center network of over 150 multidisciplinary care teams at top medical institutions nationwide.
Barry J. Byrne, MD, PhD, is an ardent supporter of newborn screening and has been an innovator and early adopter of new FDA-approved therapies that have the potential to alter the course of some neuromuscular disorders. He was the first physician to administer an approved gene therapy to a neuromuscular patient in the U.S.
"We are just beginning to realize the impact of the current revolution in the treatment of neuromuscular disorders. Newborn screening and access to newly-approved therapies are changing patients' lives when diagnosed with neuromuscular diseases; the MDA Care Center network is ready to provide these innovative treatments," says Dr. Byrne. "Disease-modifying therapies are no longer a thing of the future. There is an urgent need to bring innovative care, cutting-edge clinical research and new breakthrough treatments to the community."
Dr. Byrne will continue in his role as the associate chair of pediatrics and director of the Powell Gene Therapy Center at the University of Florida College of Medicine as he assumes this new position. He is also director of the MDA Care Center at the University of Florida.
Matthew B Harms, MD, will serve as a medical expert on ALS and other neuromuscular disorders. He is active in clinical research. Dr. Harms is associate professor of neurology at Columbia University's Vagelos College of Physicians and Surgeons and serves at MDA's ALS Care Center at Columbia University. Dr. Harms received MDA's Diamond Award for his work directing an international effort with whole genome and transcriptome sequencing to bring precision medicine to ALS treatments.
John W. Day, MD, PhD, completes the Medical Advisory Team. Dr. Day is professor of neurology and pediatrics and director, Division of Neuromuscular Medicine at Stanford University. He directs Stanford's MDA Care Centers, which uniquely integrate the Lucile Packard Children's Hospital Pediatric and Transitional Neuromuscular Clinic with the Stanford Hospital Neuroscience Health Center's Neuromuscular and ALS Research and Clinic. The comprehensive team of investigators and clinicians in the Stanford Neuromuscular Program have helped develop novel gene modification and gene replacement treatments for spinal muscular atrophy, muscular dystrophy and ALS, and have spearheaded development of centralized data hubs like MDA's MOVR for neuromuscular disease.
About Barry J. Byrne, MD, PhD
Dr. Byrne is a clinician scientist who is studying a variety of rare diseases with the specific goal of developing therapies for inherited muscle disease. As a pediatric cardiologist, his focus is on conditions that lead to skeletal muscle weakness and abnormalities in heart and respiratory function. His group has made significant contributions to the understanding and treatment of Pompe disease, a type of neuromuscular disorder caused by an excess of a type of sugar (glycogen) in certain muscles. The research team has pioneered the use of adeno-associated virus (AAV) mediated gene therapy to restore heart and skeletal muscle function in Duchenne muscular dystrophy, Pompe, Friedrich's ataxia and other neuromuscular diseases. His group at the Powell Center has also established a series of new methods for large-scale AAV manufacturing to enable access for a wide variety of conditions.
About Matthew B. Harms, MD
Dr. Harms' post-doctoral and faculty work in neurogenetics led to the discovery of genes for dominant spinal muscular atrophy and limb-girdle muscular dystrophy type 1D. He sees patients in the Eleanor and Lou Gehrig ALS Center, the Adult Muscular Dystrophy Association Clinic, the Pediatric Muscular Dystrophy Association Clinic, and until recently, the ALS Clinic of the Bronx VA Hospital. His laboratory straddles Columbia's Motor Neuron Center and the Institute for Genomic Medicine, with a focus on generating, integrating, and analyzing clinical, genomic and transcriptomic datasets for amyotrophic lateral sclerosis and other neurological disorders.
About John W. Day, MD, PhD
Dr. Day has combined his expertise in synaptic physiology, genetics and neuromuscular medicine to help define the molecular mechanisms underlying myotonic dystrophy and other muscular dystrophies, neuropathies and ataxias. Under his leadership, the Stanford Neuromuscular Program is dedicated to the elucidation and treatment of neuromuscular diseases, integrating clinical care and clinical research with Stanford's basic science and translational programs. All Stanford pediatric and adult neuromuscular patients are asked to participate in research and are followed over time with functional evaluations. The Stanford Neuromuscular Program mission aligns fully with the goals of the MDA: to diagnose, investigate and characterize neuromuscular disorders precisely and completely; to develop novel treatments for neuromuscular disease; to incorporate novel treatments into the comprehensive care of patients with neuromuscular disorders; to advocate and support patients and families affected by neuromuscular disease so they can live life as fully and independently as possible; and to train the next generation of experts in neuromuscular diagnosis, care and research.
About MDA
MDA is committed to transforming the lives of people affected by muscular dystrophy, ALS, and related neuromuscular diseases. We do this through innovations in science and innovations in care. As the largest source of funding for neuromuscular disease research outside of the federal government, MDA has committed more than $1 billion since our inception to accelerate the discovery of therapies and cures. Research we have supported is directly linked to life-changing therapies across multiple neuromuscular diseases. MDA's MOVR is the first and only data hub that aggregates clinical, genetic, and patient-reported data for multiple neuromuscular diseases to improve health outcomes and accelerate drug development. MDA supports the largest network of multidisciplinary clinics providing best in class care at more than 150 of the nation's top medical institutions. Our Resource Center serves the community with one-on-one specialized support, and we offer educational conferences, events, and materials for families and healthcare providers. Each year thousands of children and young adults learn vital life skills and gain independence at summer camp and through recreational programs, at no cost to families. For more information visit mda.org.
SOURCE: Muscular Dystrophy Association
Find MDA
in your Community