About Us
We're here to transform the lives of people affected by neuromuscular disease.
Muscular Dystrophy Association Announces Facebook Live @MDAorg on Giving Tuesday, December 1 at 3pm ET For A Year-In-Review of Research & Clinical Trials for the Neuromuscular Community
Moderated by Dr. Sharon Hesterlee,
Featuring MDA Chief Medical Advisor, Dr. Barry Byrne and MDA Board Member, Dr. Elizabeth McNally
NEW YORK, NY – Monday, November 9, 2020
What:
The Muscular Dystrophy Association (MDA) invites you to join a special virtual conversation on Giving Tuesday, December 1, 2020, focused on the progress and work to come to fund research, care, clinical trials, and advocacy, to progress treatments and distribution of a COVID-19 vaccine for the neuromuscular community. MDA continues to advocate for the momentum of research and care through the COVID-19 pandemic, and vaccine distribution to our community.
Topics to be covered during this Facebook Live event include:
Year-in-Review and a look ahead to 2021:

Virtual and in-person neuromuscular research
New treatments
Clinical trial advancements

How families can help advance neuromuscular research and clinical trials
Impact COVID-19 has on neuromuscular research, clinical trials, and vaccine distribution for our community, and MDA's Frontline COVID-19 Response
MDA Frontline COVID-19 response continues, featuring a Q&A open to a global audience including clients and caregivers to families living with neuromuscular diseases. The conversation aims to provide answers and resources families urgently need in these uncertain times, as the neuromuscular community is among the highest at risk for COVID-19.
When:
Giving Tuesday, December 1 at 3pm ET
Where:
https://www.facebook.com/MDAOrg/
MDA will request questions from the community in forthcoming posts on the @MDAorg Facebook page.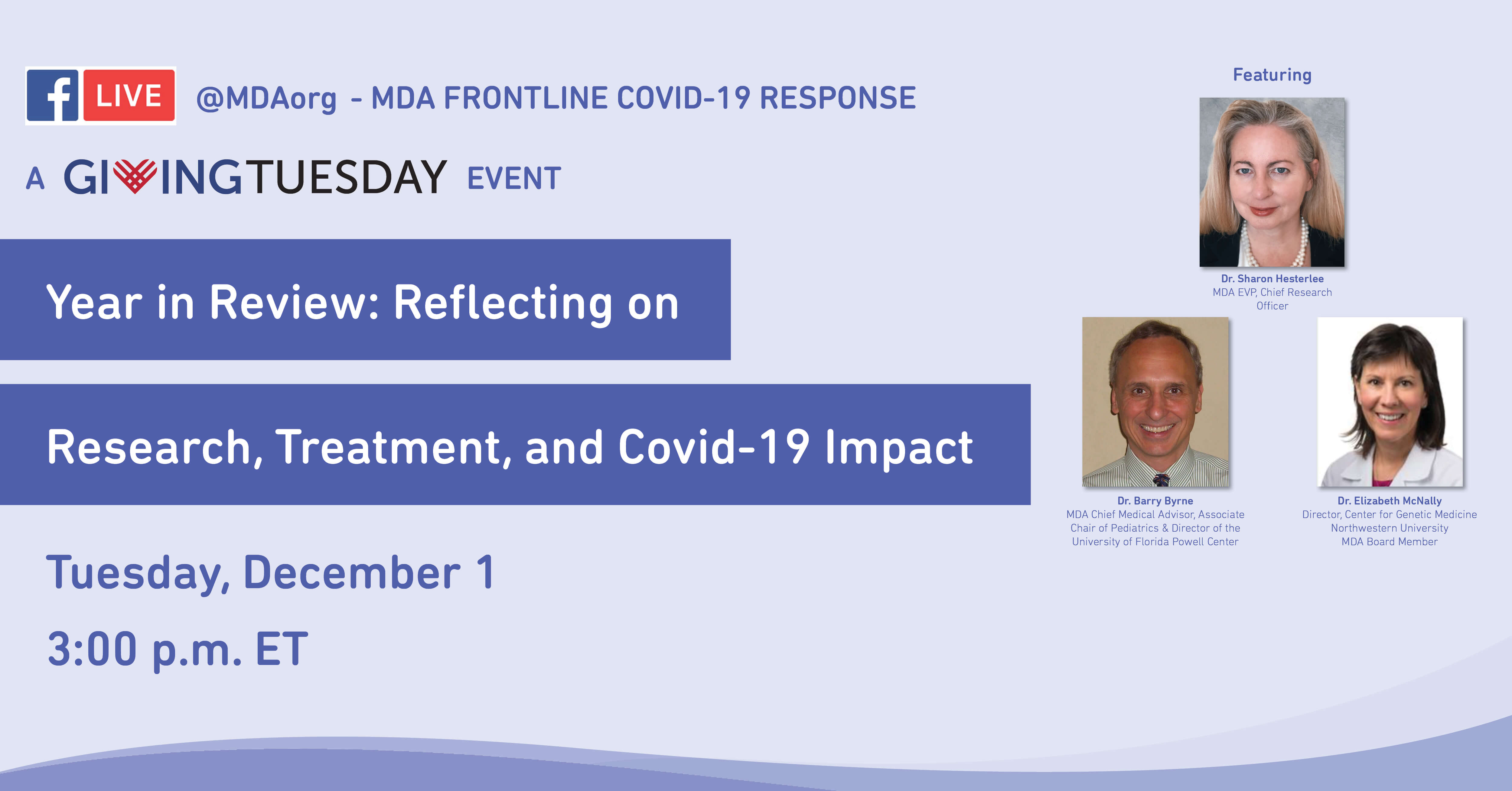 Who:
Moderator: Dr. Sharon Hesterlee, MDA Chief Scientific Officer
Featuring: Dr. Barry Byrne, MDA Chief Medical Advisor; Dr. Elizabeth McNally, MDA Board Member
Event sponsors: Mitsubishi Tanabe Pharma America, Inc., Sanofi Genzyme, Genentech
** Host and panelists are available for interview prior to, or following, Q&A**
Sharon Hesterlee, Ph.D., is the EVP, Chief Research Officer at the Muscular Dystrophy Association. Prior to rejoining MDA, Dr. Hesterlee served as the Executive Vice President for Portfolio Development and head of neuromuscular programs at leading adeno-associated virus (AAV) gene therapy company Asklepios Biopharmaceuticals, Inc. (Askbio). Before joining Askbio/Lion she served as Director, Gene Therapy at Pfizer Inc.'s Rare Disease Research Unit, where she led three of Pfizer's internal gene therapy programs following the acquisition of Bamboo Therapeutics in 2016. In the 15 years before transitioning to industry-focused roles, Dr. Hesterlee led research and strategy for several leading nonprofit organizations, having served as Chief Science Officer for the Myotonic Dystrophy Foundation, Vice President of Research for Parent Project Muscular Dystrophy and Scientific Director of the Association for Frontotemporal Degeneration. During her initial work with MDA, she served as Senior Vice President and Executive Director of MDA Venture Philanthropy and Vice President for Translational Research, among other positions.
Barry J. Byrne, M.D., Ph.D is a leading voice in neuromuscular disease research and care. As a pediatric cardiologist, his focus is on conditions that lead to skeletal muscle weakness and abnormalities in heart and respiratory function. Dr. Byrne is the MDA's Chief Medical Advisor. He currently serves as the Associate Chair of Pediatrics and Director of the University of Florida Powell Center.
Dr. Elizabeth McNally is an MDA Board member and directs the Center for Genetic Medicine at Northwestern University, at an MDA Care Center location. She studies genetic mechanisms responsible for inherited human diseases including heart failure, cardiomyopathy, muscular dystrophy, arrhythmias, aortic aneurysms. Working with individuals and families, Dr. McNally's work is defining the genetic mutations that cause these disorders. By establishing models for these disorders, we can now begin to develop and test new therapies, including genetic correction and gene editing.
Why:
As families cope with additional burdens in through the COVID-19 pandemic, the MDA aims to provide a year-in-review of how we keep research and clinical trials moving forward, the state of treatments for the community, including advocacy for a COVID-19 vaccine for people with neuromuscular diseases who are at elevated risk.
The neuromuscular disease community (including people with muscular dystrophy, CMD, SMA, Duchenne and related neuromuscular diseases, and ALS – are among the highest risk populations for COVID-19. They are also among the most overlooked. While precautions for cancer patients, older adults and those with conditions that affect respiratory health exist, there is a lack of information specific to people living with neuromuscular diseases and their caregivers. MDA continues to be on the frontlines serving this community with research, care, and advocacy for over 300,000 people in the United States.
For 70 years, the Muscular Dystrophy Association (MDA) has been committed to transforming the lives of people living with muscular dystrophy, ALS, and related neuromuscular diseases. We do this through innovations in science and innovations in care. As the largest source of funding for neuromuscular disease research outside of the federal government, MDA has committed more than $1 billion since our inception to accelerate the discovery of therapies and cures. Research we have supported is directly linked to life-changing therapies across multiple neuromuscular diseases. MDA's MOVR is the first and only data hub that aggregates clinical, genetic, and patient-reported data for multiple neuromuscular diseases to improve health outcomes and accelerate drug development. MDA supports the largest network of multidisciplinary clinics providing best-in-class care at more than 150 of the nation's top medical institutions. Our Resource Center serves the community with one-on-one specialized support, and we offer educational conferences, events, and materials for families and healthcare providers. MDA Advocacy supports equal access for our community, and each year thousands of children and young adults learn vital life skills and gain independence at summer camp and through recreational programs, at no cost to families. During the COVID-19 pandemic, MDA continues to produce virtual events and programming to support our community when in-person events and activities are not possible. MDA's COVID-19 guidelines and virtual events are posted at mda.org/COVID19. For more information, visit mda.org.