About Us
Our mission is to empower people living with neuromuscular diseases to live longer, more independent lives.
Muscular Dystrophy Association's Venture Philanthropy Program Announces Investment in Non-viral Gene Therapy
New York, NY – January 25, 2023, The Muscular Dystrophy Association (MDA) announces a $650,000 investment in Myosana Therapeutics via its MDA Venture Philanthropy (MVP) program. Myosana is a start-up company co-founded in 2018 from the University of Washington based on a non-viral antibody-mediated platform technology developed for the delivery of full-length genes to skeletal and cardiac muscles.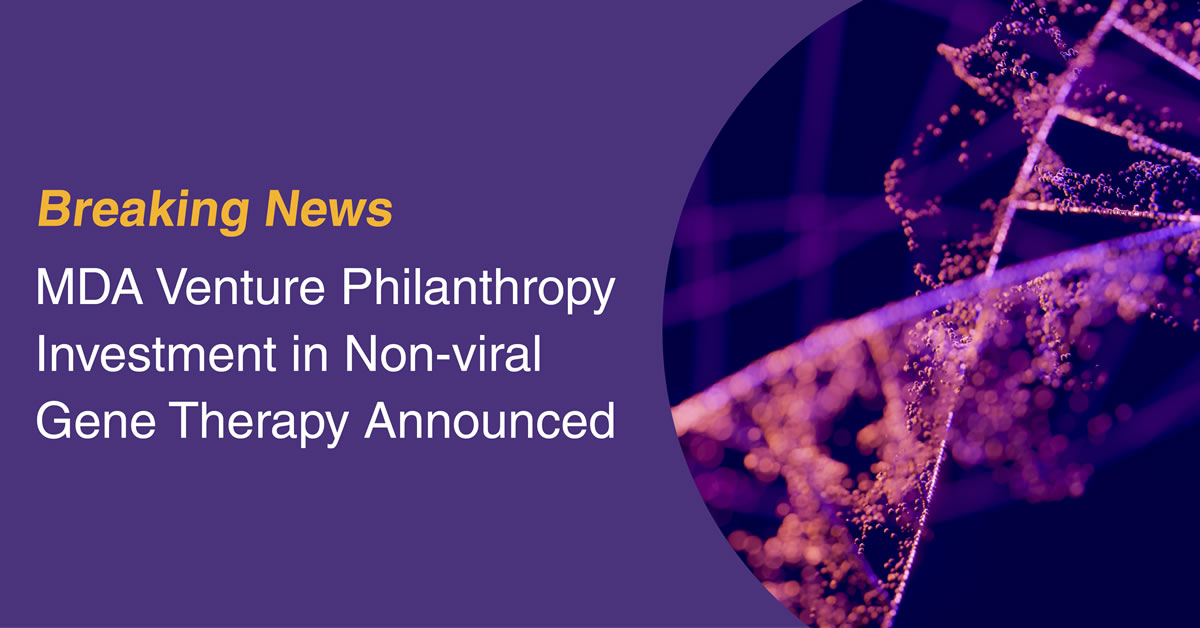 MVP funds were awarded toward the completion of preclinical data generation and IND-enabling studies for Myosana's lead candidate to deliver full-length dystrophin gene for the treatment of Duchenne muscular dystrophy (DMD). The Myosana team consists of Matthew Lumley, Chief Executive Officer, Stanley Froehner, Ph.D., Chairman of the Board, and Nicholas Whitehead, Ph.D., Chief Research Officer.
Myosana's non-viral delivery platform is mutation agnostic and could potentially benefit the entire DMD patient population. In addition, the technology may overcome known hurdles associated with current viral delivery methods used in gene therapy, such as adeno-associated viruses (AAV), by removing limitations to gene size as well as allowing for repeat dosing, and enrichment to skeletal and cardiac muscles using targeted receptors.
"Full-length gene delivery of dystrophin has the potential to restore full functionality of the dystrophin protein at the sarcolemma which may achieve a better result than current microdystrophin gene replacement approaches," said Sharon Hesterlee, Ph.D., Chief Research Officer, MDA.
DMD is an X-linked disorder with a prevalence of 1 in 5000 live male births. Mutations in the dystrophin gene cause progressive muscle weakness and wasting, resulting in reduced lifespan of patients. While survival and quality of life has improved over the years due to corticosteroids and supportive care, there are still significant healthcare costs associated with DMD. There is therefore considerable commercial potential for transformative therapies, particularly targeted towards restoring dystrophin expression. Current mutation-specific exon-skipping therapies and AAV-based microdystrophin gene therapies do not restore full-length dystrophin expression and also exclude some DMD patients due to mutation type and/or the existence of pre-existing antibodies to AAV.
MDA has provided steadfast support for DMD research since providing grant funding to identify the causative disease gene (dystrophin) in 1986 by Louis Kunkel, Ph.D., Professor of Genetics and Pediatrics at Boston Children's Hospital and Harvard Medical School, and member of the MDA Board of Directors and Executive Committee of the Board. MDA has also provided direct support for research that has led to the development and approval of exon skipping therapies.
In 2022 alone, MDA awarded 20 new grants for DMD totaling over $4.5 million. These grants consist of improving disease insights, identifying novel treatment approaches, monitoring cardiac outcomes as well as trialing new steroid dosage protocols.
"We are beginning to reap the rewards of investments made by the Muscular Dystrophy Association and other partner organizations into DMD research over many decades. Patients and families can now look forward to several genetic treatment options that will be made available in the coming years," said Dr. Hesterlee.
For more information on MDA Research click here.
About Muscular Dystrophy Association
Muscular Dystrophy Association (MDA) is the #1 voluntary health organization in the United States for people living with muscular dystrophy, ALS, and related neuromuscular diseases. For over 70 years, MDA has led the way in accelerating research, advancing care, and advocating for the support of our families. MDA's mission is to empower the people we serve to live longer, more independent lives. To learn more visit mda.org and follow MDA on Instagram, Facebook, Twitter, TikTok, LinkedIn, and YouTube.
Find MDA
in your Community