About Us
Our mission is to empower people living with neuromuscular diseases to live longer, more independent lives.
Muscular Dystrophy Association to Support Telehealth Awareness Week 2021 as an Endorsing Partner
NEW YORK, NY – September 15, 2021 – The Muscular Dystrophy Association (MDA) today announced its support for the inaugural Telehealth Awareness Week presented by the American Telemedicine Association as an official Endorsing Partner. Taking place September 19-25, 2021, Telehealth Awareness Week will reinforce the value of telehealth and its critical role in providing access to safe, appropriate care for patients when and where they need it. During the week, leaders in telehealth service delivery, hospital systems and medical practices, technology solution providers, patient advocacy organizations, policymakers and other stakeholders will convene to advance telehealth as a quality care option.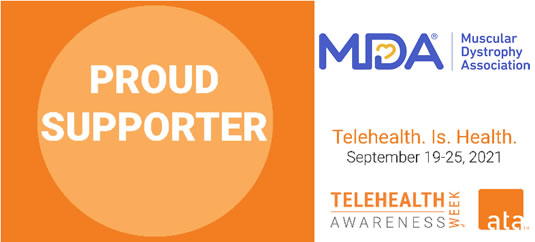 "Throughout the COVID-19 public health emergency, telehealth has been a key element in ensuring access to healthcare services for all patients, including members of rural and underserved communities," said Paul Melmeyer, VP, Public Policy & Advocacy, MDA. "We are proud to join the American Telemedicine Association in putting a spotlight on the important benefits telehealth brings to our healthcare system this Telehealth Awareness Week."
Telehealth Awareness Week will include a schedule of events underscoring the growing acceptance of virtual care in U.S. healthcare as well as a series of new informational resources to support broader access to telehealth services for patients, caregivers and healthcare providers. Updates on activities planned for Telehealth Awareness Week and opportunities to participate are available on the official Telehealth Awareness Week website here: TelehealthAwareness.org.
Telehealth effectively connects individuals and their healthcare providers when in-person care is not necessary or not possible. Using telehealth services, patients can receive care, consult with a provider, get information about a condition or treatment, arrange for prescriptions, and receive a diagnosis. The most commonly used approaches in telehealth include virtual visits, chat-based Interactions, remote patient monitoring, as well as emerging technology-based tools including artificial intelligence (AI), digital diagnostics and digital clinical trials.
"Telehealth across the MDA Care Center network and continuing clinical trials for research has been transformative for the neuromuscular community, and I'm looking forward to sharing my perspective utilizing telehealth on the panel discussion on September 24th," said Mindy Hendersion, Director & Quest Editor-In-Chief, MDA.
For 70 years, the Muscular Dystrophy Association (MDA) has been committed to transforming the lives of people living with muscular dystrophy, ALS, and related neuromuscular diseases. We do this through innovations in science and innovations in care. As the largest source of funding for neuromuscular disease research outside of the federal government, MDA has committed more than $1 billion since our inception to accelerate the discovery of therapies and cures. Research we have supported is directly linked to life-changing therapies across multiple neuromuscular diseases. MDA's MOVR is the first and only data hub that aggregates clinical, genetic, and patient-reported data for multiple neuromuscular diseases to improve health outcomes and accelerate drug development. MDA supports the largest network of multidisciplinary clinics providing best-in-class care at more than 150 of the nation's top medical institutions. Our Resource Center serves the community with one-on-one specialized support, and we offer educational conferences, events, and materials for families and healthcare providers. MDA Advocacy supports equal access for our community, and each year thousands of children and young adults learn vital life skills and gain independence at summer camp and through recreational programs, at no cost to families. During the COVID-19 pandemic, MDA continues to produce virtual events and programming to support our community when in-person events and activities are not possible. MDA's COVID-19 guidelines and virtual events are posted at mda.org/COVID19. For more information, visit mda.org.
Find MDA
in your Community