About Us
Our mission is to empower people living with neuromuscular diseases to live longer, more independent lives.
Muscular Dystrophy Association Named an Official Charity Partner of the 2021 TCS New York City Marathon
MDA's Team Momentum, sponsored by CITGO Petroleum Corporation, features indefatigable champions running for the mission to fund research, care, and advocacy for the neuromuscular community.
NEW YORK, NY – Monday, October 18, 2021 – The Muscular Dystrophy Association (MDA) was named an Official Charity Partner for the 2021 TCS New York City Marathon on November 7. This year serves as the 50th celebratory running of the marathon.
MDA's team includes fierce advocates running in its nationwide endurance program, MDA Team Momentum. Team members share personal connections of why they run for MDA's mission to fund research, care, and advocacy for people living with muscular dystrophy, ALS, and related neuromuscular diseases. Team links to donate and general links to donate are available here.
MDA's Team Momentum runners include:
Deanna Masiar from California is running for her two sons living with myotonic dystrophy
Anna DeGarmo from Virginia is running for family members living with Charcot-Marie-Tooth (CMT) disease
Jake Hoyle, a Columbia University graduate from New York and 2020 Olympic Fencing Team member, is running for a family member living with Duchenne muscular dystrophy (DMD)
Amy and Jamie Shinneman and their son Luke are from Indiana. Luke will be running, and Jamie will be running and pushing Amy in a storied duo bike. Amy lives with Bethlem Myopathy and is an ambassador and advocate for MDA, and Luke is an MDA volunteer
Natasha Richards-Kamara, from Maryland, from Team GeneDX, is running for MDA as her charity of choice to fundraise for the mission
"MDA is grateful to New York Road Runners (NYRR) for again making this opportunity available to our amazing superheroes from around the country. They are ready to show their resilience and strength by dedicating their 26.2 miles in the great city of New York to raise awareness and funds for MDA families. The TCS New York City Marathon is the world's most popular marathon. With the support of our partner, CITGO, Team Momentum is excited to converge on NYC to exemplify our passion for fueling MDA's mission with our families in our hearts and minds. MDA Team Momentum cannot be stopped on Marathon Sunday," said Christopher Marshall, National Director, MDA Team Momentum.
"Supporting charitable causes and organizations is a long-standing tradition of the TCS New York City Marathon as it serves as one of the world's largest fundraising platforms," said Christine Burke, Senior VP of Strategic Partnerships, NYRR. "The marathon exemplifies the running community's spirit of giving back, and no group demonstrates that more than the thousands who choose to run for charity. We are proud to support the efforts of the Muscular Dystrophy Association's team and the positive impact they have made to their community."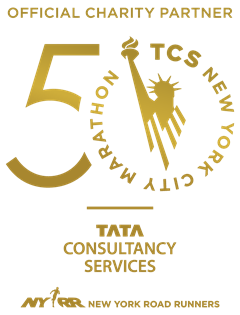 Team Deanna Masiar
For Deanna Masiar, running TCS NYC Marathon with MDA is personal. Deanna will be making the trek from California to run for her two boys living with myotonic dystrophy. "Both of my boys, James and Jack, have myotonic dystrophy, and I hope they grow up knowing that the hurdles that we face do not define us as a family, my kids, or me as a mom. That's why I'm running with MDA, showing them that we will all face adversity in some way or other in our lives and that it is not about 'if' we face adversity but about 'how' we face it."
Team Anna DeGarmo
Anna DeGarmo is running for many family members living with CMT. Within 24 hours of signing up with MDA and dedicating her miles to her family, Anna raised thousands for MDA's mission. All of Anna's many family members living with CMT are fierce advocates for related research funding and have worked tirelessly to manage symptoms and live their healthiest and strongest lives. Anna says, "I recognized that while many of my close family members are unable to run and participate in certain physical activities, I am lucky enough to have the ability to run, so why not show active gratitude for my body's abilities? I am running with MDA to show support for my loved ones with CMT and those living with and caring for individuals with muscular dystrophy and related neuromuscular diseases."
Team HBD & Jake - Jake Hoyle with cousin Ash Hoyle, and girlfriend Leila Mantilla
This past summer, New Yorker Jake Hoyle competed in the 2020 Summer Olympic Games as part of Team USA's Fencing squad. This fall, he will be taking on another amazing challenge as part of a team in the TCS NYC Marathon alongside his cousin Ash Hoyle, and girlfriend Leila Mantilla. This strong trio dedicates their miles to a family member living with DMD. Jake says, "I'm running for my cousin (and best buddy) Max. I'm running to raise awareness for MDA and to support Duchenne research efforts as scientists work towards a cure." 
Team Humbly Courageous – Amy & Jamie Shinneman with their son Luke
Naming their team after their blog, the Shinnemans have participated in the Chicago Marathon since 2018, and the couple has become synonymous with MDA's Team Momentum and the organization at large as ambassadors and advocates for the mission. This amazing MDA family hailing from Indiana has adopted the phrase "together we fight" along with MDA's National Spokesperson, Indianapolis Colts running back, Nyheim Hines, and they do just that together. Amy, who lives with bethlem myopathy, and Jamie spend many miles together training for their next marathon or half and always spreading the mission of MDA. They will be a duo bike team, and their son, Luke mark his first marathon at the age of 18. "I just got very emotional thinking that I had crossed my first finish line of a marathon but just really thinking about what my husband had sacrificed so I could experience that too," said Amy. See recent coverage here.
Team GeneDx – Natasha Richards-Kamara
Natasha Richards-Kamara, director of sales at GeneDX, takes on her second TCS New York City Marathon with MDA, having last completed the 2019 race. MDA connected with Natasha at the 2018 Marine Corps Marathon race weekend, and she was thrilled to join MDA's Team Momentum. "TeamGeneDx is truly humbled to once again run the TCS New York City Marathon on behalf of the Muscular Dystrophy Association. With honor and alongside other MDA runners, we will run 26.2 miles to help fund research for muscular dystrophy and other related neuromuscular diseases," said Natasha.
The NYRR Official Charity Partner Program offers an opportunity for nonprofit organizations to raise funds to support their missions and services. Participating charities can offer guaranteed entry to runners who fundraise on their behalf. Since its inception in 2006, the TCS New York City Marathon Official Charity Partner Program has raised more than $350 million for more than 1,000 worthy nonprofit organizations across the globe. Prior to the start of the official program, the New York City Marathon had served as an outlet for individual philanthropic runners since the 1980s.
The 2021 TCS New York City Marathon will commemorate the race's 50th running, with runners from all over the world participating in person and virtually. The marathon began in 1970 and has become one of the most anticipated annual mass sporting events in New York City. This year's marathon will once again bring together people of all ages and abilities reflecting the resilience and strength of the running community.
Follow MDA national social media channels as we share these stories leading up to and through the marathon @MDAorg: Facebook, Twitter, Instagram, LinkedIn.
For 70 years, the Muscular Dystrophy Association (MDA) has been committed to transforming the lives of people living with muscular dystrophy, ALS, and related neuromuscular diseases. We do this through innovations in science and innovations in care. As the largest source of funding for neuromuscular disease research outside of the federal government, MDA has committed more than $1 billion since our inception to accelerate the discovery of therapies and cures. Research we have supported is directly linked to life-changing therapies across multiple neuromuscular diseases. MDA's MOVR is the first and only data hub that aggregates clinical, genetic, and patient-reported data for multiple neuromuscular diseases to improve health outcomes and accelerate drug development. MDA supports the largest network of multidisciplinary clinics providing best-in-class care at more than 150 of the nation's top medical institutions. Our Resource Center serves the community with one-on-one specialized support, and we offer educational conferences, events, and materials for families and healthcare providers. MDA Advocacy supports equal access for our community, and each year thousands of children and young adults learn vital life skills and gain independence at summer camp and through recreational programs, at no cost to families. During the COVID-19 pandemic, MDA continues to produce virtual events and programming to support our community when in-person events and activities are not possible. MDA's COVID-19 guidelines and virtual events are posted at mda.org/COVID19. For more information, visit mda.org.
About New York Road Runners (NYRR)
NYRR's mission is to help and inspire people through running. Since 1958, New York Road Runners has grown from a local running club to the world's premier community running organization. NYRR's commitment to New York City's five boroughs features races, virtual races, community events, free youth running initiatives and school programs, the NYRR RUNCENTER featuring the New Balance Run Hub, and training resources that provide hundreds of thousands of people each year with the motivation, know-how, and opportunity to Run for Life. NYRR's premier event, and the largest marathon in the world, is the TCS New York City Marathon. Held annually on the first Sunday in November, the race features a wide population of runners, from the world's top professional athletes to a vast range of competitive, recreational, and charity runners. To learn more, visit www.nyrr.org.
Contact:
MDA Public Relations
Mary Fiance
press@mdausa.org
NYRR Media Relations
Trina Singian
(c): 646.457.8953 (e): tsingian@nyrr.org
Find MDA
in your Community