About Us
Our mission is to empower people living with neuromuscular diseases to live longer, more independent lives.
Muscular Dystrophy Association Celebrates FDA Approval of Skyclarys, First Ever Treatment for Friedreich's Ataxia from Reata Pharmaceuticals
NEW YORK, February 28, 2023 -- The Muscular Dystrophy Association (MDA) celebrates the US Food and Drug Administration (FDA) approval of Omaveloxolone (Skyclarys), the first ever treatment for Friedreich's Ataxia (FA), a rare neuromuscular disease on Rare Disease Day today, February 28. Skyclarys will be made available in the United States (US) and marketed by Reata Pharmaceuticals.
The approval of SKYCLARYS is supported by the efficacy and safety data from the MOXIe Part 2 trial and a post hoc Propensity-Matched Analysis of the open-label MOXIe Extension trial.
"This is an incredible milestone for the Friedreich's ataxia community," said Sharon Hesterlee, Ph.D., Chief Research Officer, MDA. "Any therapy with the potential to alter the course of disease progression offers hope for this disease to so many families we serve".
MDA is proud to have provided steadfast support over a period of five years to principal investigator David Lynch, M.D., Ph.D., from Children's Hospital of Philadelphia, an MDA Care Center, for the establishment of a clinical research network for FA. Dr. Lynch is one of the lead investigators of the MOXIe trial who has published seminal manuscripts reporting on the safety and efficacy of Omaveloxolone for viewing here and here. "This approval is a milestone not only for the FRDA community, but hopefully represents a step forward for all rare diseases," said Dr. Lynch.
MDA's pivotal support for this network has helped towards collecting clinical data and biospecimens of FA patients over the years; an infrastructure that has aided in the clinical testing of Skyclarys in patients. Additionally, clinical trials of Skyclarys took place at MDA Care Center Network locations including UCLA, University of Florida Neurology, Emory University Hospital, The Ohio State University, and Children's Hospital of Philadelphia.
Since the inception of MDA, the organization has invested more than $20 million in FA research.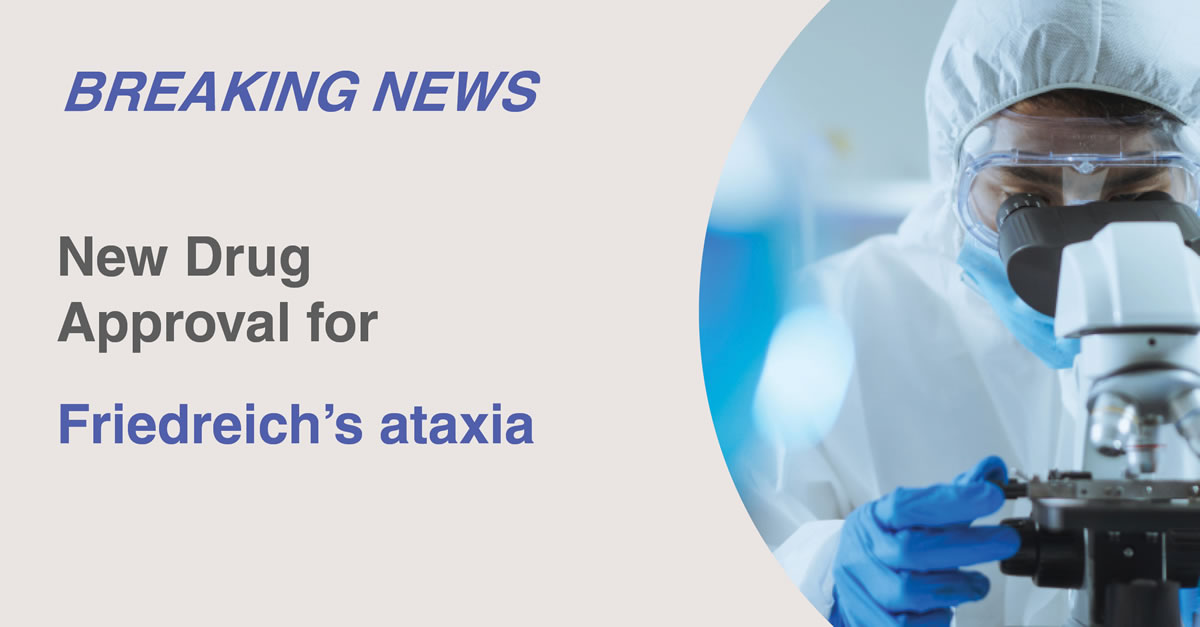 "The approval of this groundbreaking, first-ever treatment for Friedreich's Ataxia is both an answer to prayer and the result of hard work," said Tom Henry, a volunteer MDA National Vice President and proud member of the MDA family as a father of two young adult sons living with the disease. "When my children were diagnosed, we partnered with our community of friends, business colleagues, and other MDA families to enable research and accelerate treatments through fundraising and volunteer work. Today, it is beyond gratifying to see the fruits of our labors starting to pay off —giving families like ours hope that their loved ones with genetic, neuromuscular diseases may live long and pain-free lives. Many thought it was impossible to develop treatments for rare genetic diseases, but our family, alongside the Muscular Dystrophy Association, has never wavered in our efforts to make a day like today possible. We are grateful to be surrounded by a community that will never give up on each other, and we are so excited about this new treatment. With that being said, this is just the beginning, because we do not plan to stop working until all genetic diseases are cured."
"Since Friedreich's ataxia is a devastating disease that results in loss of corradiated movement, speech and sensory deficits, as well as fatal heart disease; an impactful therapy like Skyclarys brings new hope to patient community served by MDA Care Centers in partnership with the Friedreich's Ataxia Research Alliance (FARA). We at MDA are delighted to see this and other transformative therapies supported by MDA move to approval and become available to patients," said Barry Byrne, M.D., Ph.D., Chief Medical Advisor, MDA, and Associate Chair of Pediatrics and Director of the Powell Gene Therapy Center at the University of Florida.
"As an MDA Care Center Director, I have seen improved management options for several of the MDA-covered diseases. Having success with one drug often paves the way for more treatment options, so I'm delighted to have a disease modifying treatment to offer to my FA patients!" said Katherine Mathews, M.D., MDA Care Center Director and Professor of Pediatrics-General Neurology at University of Iowa Health Care. "FA is a rare and complex disease. It is important that patients can go to a clinic and know that they have cared for others with this disease and will be able to help get the best possible treatment," she said of the MDA Care Center Network.
Reata Pharmaceuticals will present on this novel treatment at the 2023 MDA Clinical & Scientific Conference on Monday, March 20, 2023, at 7am CDT.
About Friedreich's Ataxia
First described by German physician Nikolaus Friedreich in 1863, FA is a neuromuscular disease that mainly affects the nervous system and the heart. FA affects about one in 50,000 people worldwide, making it the most common in a group of related disorders called hereditary ataxias. It shouldn't be confused with a group of diseases known as autosomal dominant spinocerebellar ataxias.
About Muscular Dystrophy Association
Muscular Dystrophy Association (MDA) is the #1 voluntary health organization in the United States for people living with muscular dystrophy, ALS, and related neuromuscular diseases. For over 70 years, MDA has led the way in accelerating research, advancing care, and advocating for the support of our families. MDA's mission is to empower the people we serve to live longer, more independent lives. To learn more visit mda.org and follow MDA on Instagram, Facebook, Twitter, TikTok, LinkedIn, and YouTube.
Find MDA
in your Community