About Us
Our mission is to empower people living with neuromuscular diseases to live longer, more independent lives.
Kroger-Atlanta Division Raises More Than $292,000 Through MDA Shamrock Program To Help People Fighting Muscle Disease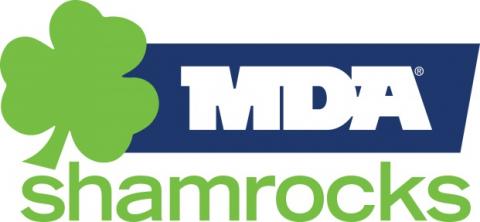 ATLANTA, April 8, 2015 — More than 186 Kroger-Atlanta Division stores in Georgia, South Carolina and Eastern Alabama teamed with customers to raise more than $292,000 to help save and improve the lives of people fighting muscle disease during the 33rd annual MDA Shamrock program to benefit the Muscular Dystrophy Association.
"Each year, Kroger- Atlanta Division employees and customers open their hearts to make a big difference for those we serve through the simple act of selling or purchasing an MDA Shamrock," said MDA Fundraising Coordinator Holly Whire. "We're grateful for Kroger's unyielding support and to all those who donated critical funds that will help accelerate treatments and cures for hundreds of local MDA families who are desperately counting on us."
From March 8 through March 21, Kroger locations participated in the nation's largest St. Patrick's Day fundraiser in which customers and associates purchased an MDA shamrock at check-out for a $1 or $5 contribution. Each shamrock purchased was signed by the customer and displayed on ceilings and walls in stores in every community, visually declaring steadfast support that will help individuals and families with muscular dystrophy and related diseases get stronger and live longer.
"We are incredibly proud of our customers and associates who helped support MDA over the years," said Glynn Jenkins, director of public relations for Kroger's Atlanta Division. "Thanks to their donations this Shamrock season, we can help inspire hope to all those living with neuromuscular diseases."
This is the fifteenth consecutive year Kroger-Atlanta Division has participated in the MDA Shamrock program. Kroger-Atlanta Division customers and associates have raised more than $4.3 million since 2001 in the fight against dozens of muscle diseases that often take away people's ability to walk, move, talk, smile and even breathe.
Dollars raised through 2015 Kroger shamrock donations help support MDA's life-enhancing programs such as state-of-the-art support groups and clinics, as well as groundbreaking research to accelerate treatments and uncover cures. They also fund one-of-a-kind MDA summer camps that remove barriers and build independence for kids affected by muscle diseases.
Learn more about the MDA Shamrock program and how to get involved at mda.org/mda-shamrocks.
About MDA
The Muscular Dystrophy Association is the world's leading nonprofit health agency dedicated to saving and improving the lives of people with muscle disease, including muscular dystrophy, amyotrophic lateral sclerosis (ALS) and other neuromuscular diseases. It does so by funding worldwide research to find treatments and cures; by providing comprehensive health care services and support to MDA families nationwide; and by rallying communities to fight back through advocacy, fundraising and local engagement.
Visit mda.org and follow us at facebook.com/MDAnational and @MDAnews. Learn more about MDA's mission by watching this video.
Kelli Park
MDA Manager, Public Relations
312.260.5923
kpark@mdausa.org
Find MDA
in your Community