Happy 40th Birthday MDA Shamrocks and Thank You for Supporting!
With this milestone, we also celebrate 40 years of progress, including:
The Duchenne muscular dystrophy gene/protein was identified
The 1st FDA-approved ALS treatment
MDA Summer Camp celebrating 60 years of changing lives
The 1st FDA-approved SMA and Duchenne treatments
15 total FDA-approved treatments in just 7 years
Your support is helping to transform lives!
See Our Progress
Get a Shamrock, Give Strength
The iconic MDA Shamrocks pinup program is one of the nation's largest St. Patrick's Day fundraisers. What started in a local pub 40 years ago has since grown to thousands of retail locations nationwide and has raised more than $330 million for MDA.
When you donate for your paper Shamrock in store or digital Shamrock online, you're helping to empower people living with neuromuscular disease to achieve their potential.
Donate for your digital Shamrock here
Find participating retailers near you:
Hear Why Our Partners Love MDA Shamrocks
"The Shamrocks program has been a cornerstone of Fareway's charitable giving efforts, and a beloved tradition in our stores. The relationships with the Shambassadors and their families keep us coming back year after year -- we are so proud to help in the fight!"
"Partnering with MDA on Shamrocks not only boosts comradery between all of our Discount Drug Mart employees but we get to make a difference in our communities by supporting a good cause as well!"
"For 35 years our CITGO locations turn green every March as they proudly display MDA shamrocks. We are excited to continue the tradition this year, as we countdown to the 40th birthday celebration of the MDA Shamrocks campaign in March 2022. CITGO Petroleum Corporation and its Marketers and Retailers remain committed to supporting MDA one shamrock at a time."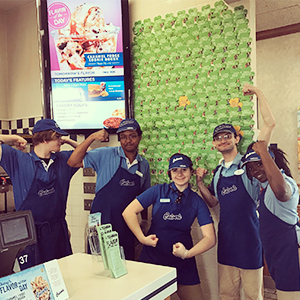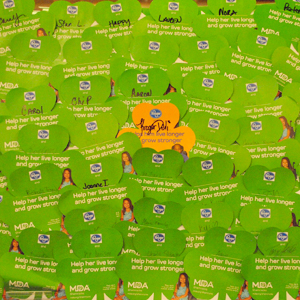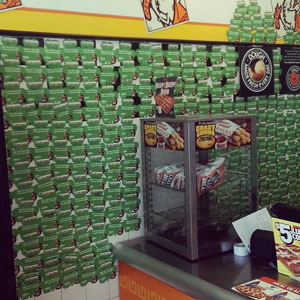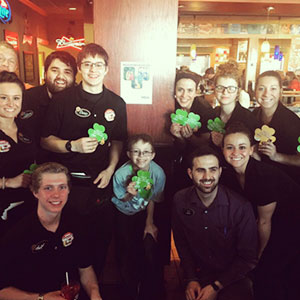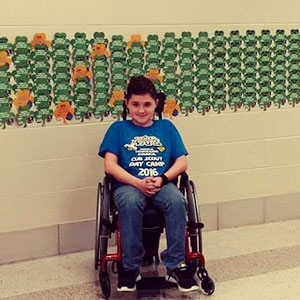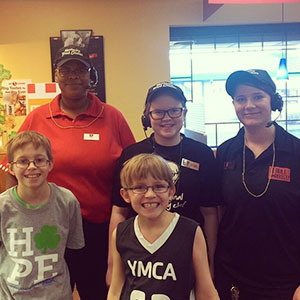 Meet Some of Our Shamrockstars
Meet Jordan

Jordan loves playing video games! He has a big impact on his community by doing something special: he helps teach medical students at the University of MN about his diagnosis: SMA Type 2. Jordan has an undeniable love for life and makes new friends wherever he goes.

Meet Maddee

Maddee loves to dance and even got to dance with Kelly Rowland.  Maddee's diagnosis of Congenital muscular dystrophy has its challenges, but she has big goals for her future. She'd like to be a physician, an attorney, or a News/Sports Anchor.

Meet Beck

Beck has many interests – video games, power chair soccer, spending time with his family, music, and concerts. His favorite hobby is riding his UTV.

Beck's family says that his diagnosis of Duchenne muscular dystrophy has taught him kindness and acceptance of everyone. He is a great advocate for himself and others! According to his family, Beck is a world changer!

Meet Samantha

Samantha has a creative mind and can take just about anything apart and put it back together. She is a huge Harry Potter fan and loves to play video games. Samantha's diagnosis of Mitochondrial Myopathy (Complex 4) means some extra planning to do activities as a family, but she still loves trying new things! When she grows up, she'd like to be an interior designer or do something in a kitchen since she loves to bake and cook! As a straight A student, she has a very bright future. Samantha enjoys telling her story and helping with any MDA events she can.

Meet Jackson

Jackson's diagnosis of Multiminicore Myopathy/Titin Myopathy is rare and challenging, but he stays super busy enjoying many different interests like playing Lego, sit-skiing, and playing sled hockey.  He also loves swimming and riding his 4-wheeler.  When he grows up, Jackson wants to be a teacher!
MDA provides all materials to participating retailers, including paper shamrocks for customers and employees to put their name on to display after
making a donation. For more information, please contact shamrocks@mdausa.org.