About Us
Our mission is to empower people living with neuromuscular diseases to live longer, more independent lives.
Eastern Pennsylvania Harley-Davidson Dealers Association Raises over $650,000 for Muscular Dystrophy Association at 36th Annual MDA Ride For Life
New York, NY -- Monday, November 8, 2023 – The Muscular Dystrophy Association (MDA) announced today the Eastern Pennsylvania Harley-Davidson Dealers Association's 36th Annual MDA Ride for Life in Elysburg, PA held on October 8th raised $657,838 by participants and dealerships for the organization's mission. Over 175 attendees, including Harley-Davidson riders from 14 dealerships and eight MDA families participated in the annual MDA Ride For Life event.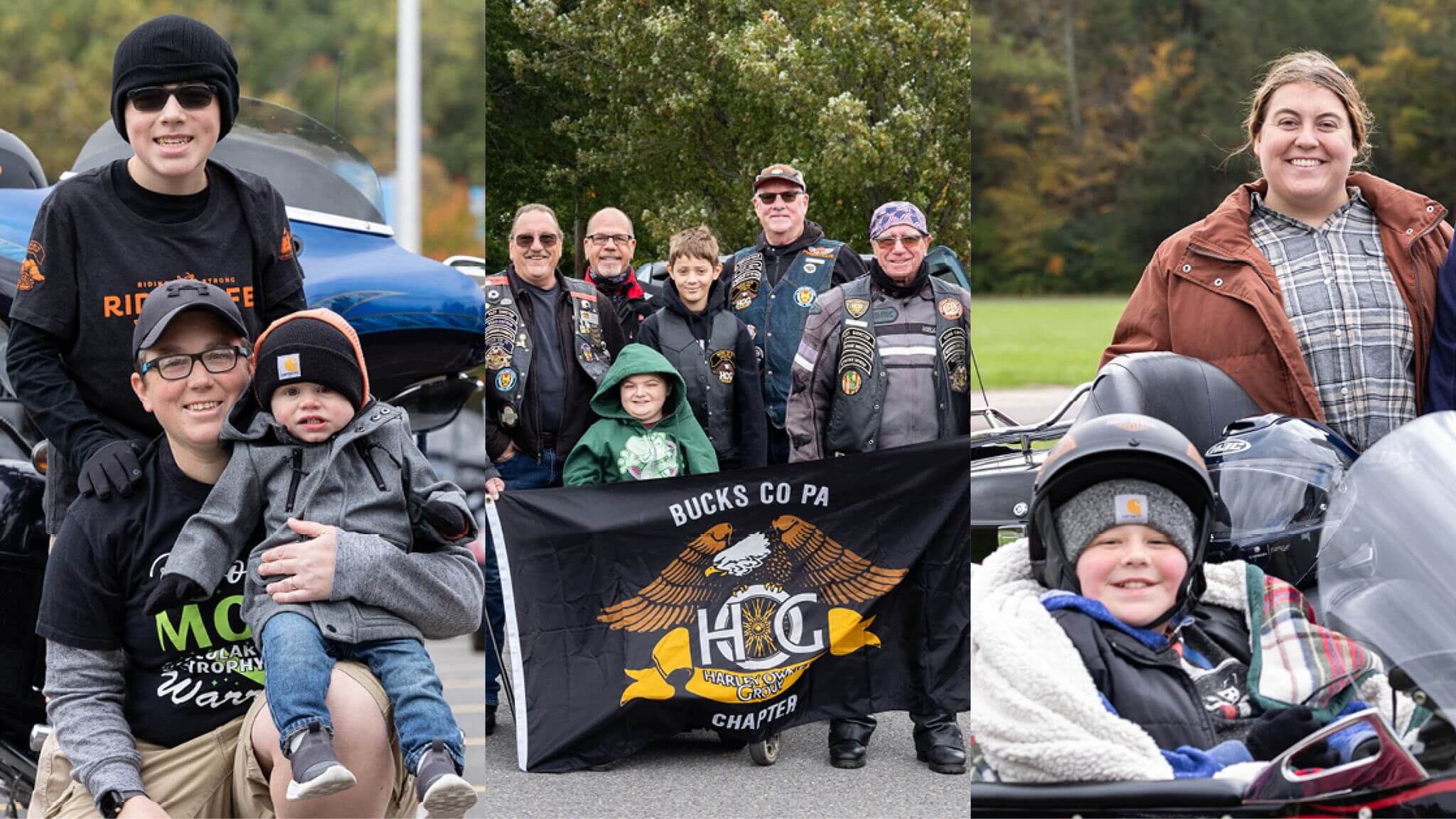 The partnership between MDA and the iconic Harley-Davidson company spans more than four decades. Within that partnership, the Eastern & Western PA Harley-Davidson Dealers Associations have had over 50,000 participants raise over $25 million, to fund groundbreaking research, care, and advocacy for people living with muscular dystrophy, amyotrophic lateral sclerosis (ALS), and related neuromuscular diseases. These funds include support MDA Summer Camp, recreational, and access programming, and the MDA Care Center Network that includes over 150 locations across the country, 11 of which are in Pennsylvania.  
"Everyone was happy to be back where it all began, at Knoebels Amusement Resort and we are grateful to our Eastern Pennsylvania Harley-Davidson Dealers Association for their continued commitment to the Muscular Dystrophy Association. The riders were thrilled to see their favorite MDA families and celebrate the mission to empower families living with neuromuscular disease to live longer, more independent lives. The support from this event allows MDA to continue to lead with breakthroughs in research, care, and advocacy, including this year, the first-ever gene therapy approved by the FDA for Duchenne muscular dystrophy. Since 2015, there have been more than 20 new treatments approved," said Tracy Denton, Senior Vice President, Development Partnerships, Muscular Dystrophy Association. 
"The event featured a "Thunder Parade," led by our MDA Ambassadors riding in sidecars. They made their way through the beautiful countryside of northeastern Pennsylvania to Knoebels, where riders enjoyed lunch, live and silent auctions, and an amusement park," said Dot Basile, Ride for Life Committee Member. "We are proud to support the mission of the Muscular Dystrophy Association and we can see the impact and joy it brings to families living with incredible challenges with neuromuscular diseases. To be able to raise funds for their care, for future breakthroughs and the many services MDA provides is a good feeling – and to see the children and young adults enjoy a week of MDA Summer Camp at no cost to their families, that is an invaluable contribution to someone's life."
Top Fundraising by Harley-Davidson Dealers:
1st Place Dealership Classic Harley-Davidson raised $380,872.00 
2nd Place Dealership Schaeffer's Harley-Davidson raised $121,500.36 
3rd Place Dealership Susquehanna Valley Harley-Davidson raised $54,219.75 
Top Fundraisers:
1st Place Michael Dimov, Susquehanna Valley Harley-Davidson $51,743.75
2nd Place Fundraiser Mary Potts, Schaeffer's Harley-Davidson $34,463.35
3rd Place Fundraiser Maria Petit, White's Harley-Davidson $10,918.71
Top Youth Fundraiser:
Hannah Luckenbill, Schaeffer's Harley-Davidson raised $35,888.24
MDA Ride for Life is the most successful single, largest purpose-driven Harley-Davidson fundraising event in the world. Funds raised by participants and dealerships accelerate research, advance care, including MDA Summer Camp and other educational and recreational programming by MDA. In addition, the funds support MDA advocacy for access to healthcare, education, employment, travel and more.
To stay updated follow MDA Ride For Life on Facebook and donate here.
About Eastern Harley-Davidson Dealers Association (EHDDA)
The EHDDA is comprised of authorized Harley-Davidson Dealerships throughout the Mid-Atlantic region, many of whom are second and third generation owners, dedicated to every aspect of professional service for their customers. They have common goals of providing the best riding experiences and of helping charitable events making the riding community one of the most generous groups in the nation. The EHDDA and its dealers contribute well over $3 million dollars annually to important community causes.
About Muscular Dystrophy Association
Muscular Dystrophy Association (MDA) is the #1 voluntary health organization in the United States for people living with muscular dystrophy, ALS, and related neuromuscular diseases. For over 70 years, MDA has led the way in accelerating research, advancing care, and advocating for the support of our families. MDA's mission is to empower the people we serve to live longer, more independent lives. To learn more visit mda.org and follow MDA on Instagram, Facebook, X, Threads, TikTok, LinkedIn, and YouTube.
Find MDA
in your Community