About Us
We're here to transform the lives of people affected by neuromuscular disease.
Muscular Dystrophy Association Hosts Facebook Live @MDAorg on Accessible Fashion with Keisha Greaves & Mindy Scheier, Moderated by Alicia Dobosz Thursday, February 18th at 3pm ET
NEW YORK, NY – February 2, 2021
What: The Muscular Dystrophy Association (MDA) invites you to join a special virtual @MDAorg Facebook Live conversation on Accessible Fashion, Thursday, February 18, 2021 at 3pm ET, focused on the progress and work to come to make fashion accessible for everyone in the neuromuscular community and the disability community at large.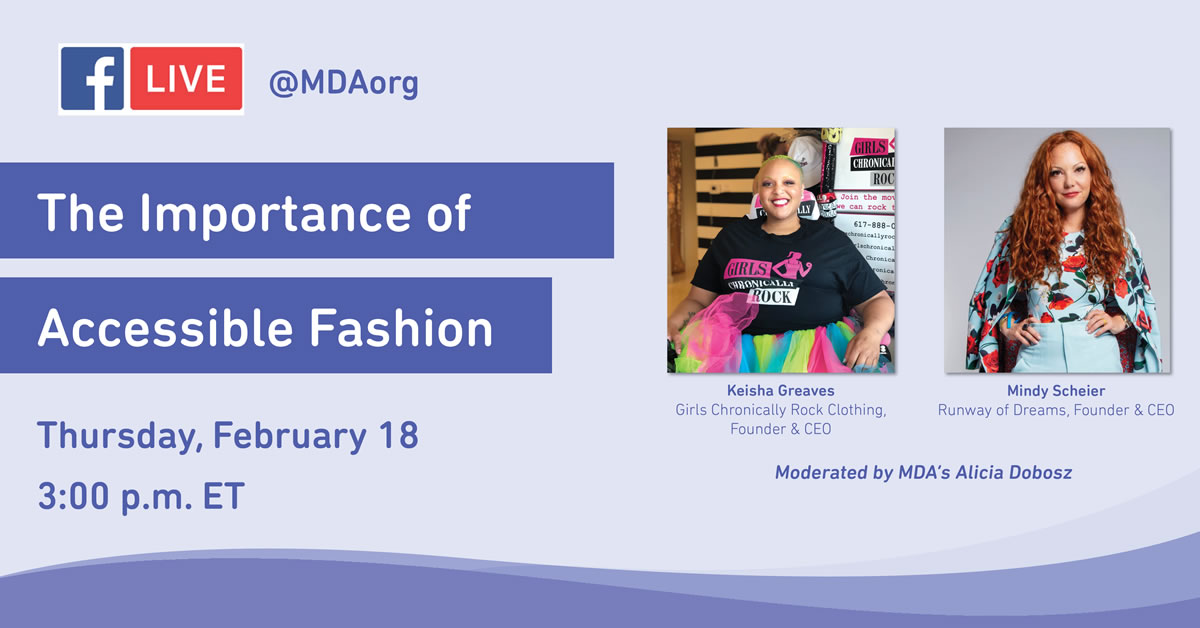 Who:
Moderator: Alicia Dobosz, MDA, Director, Recreation and Camp Programs
Guests: Keisha Greaves, Girls Chronically Rock Clothing Brand, Founder/CEO & MDA family member; Mindy Scheier, Runway of Dreams, Founder & CEO & Parent of an MDA family member
Topics to be covered:
What is accessible fashion and why is it important?
Common adaptations in fashion for the neuromuscular community
Making accessible fashion the mainstream
Careers in the fashion industry
How to pursue your passion
Why:
According to the CDC, "61 million adults in the United States live with a disability, 26 percent (one in 4) of adults in the United States have some type of disability." MDA continues to support the momentum of inclusion and accessibility for our community.
Runway of Dreams website states that, "Clothing is a basic human need." Adaptations in fashion are critical for members of the neuromuscular community to have access to this basic need while also allowing for the opportunity to maintain independence. Understanding that people living with disabilities may need adaptations in their clothing or footwear or having the knowledge that people living with disabilities may need a different cut for a piece is important. While more brands are producing accessible fashion, there still is work to be done to ensure assessable fashion can be readily available and affordable.
Sponsors: Sanofi Genzyme, Mitsubishi Tanabe Pharma America (MTPA)
Bios:
Keisha Greaves is a motivational speaker, the founder of Girls Chronically Rock. The company offers inspired fashion celebrating Muscular Dystrophy and other chronic illnesses. Over the past few years, Keisha has been featured in Improper Bostonian, Boston Voyager, Herself 360, Liz on Biz, among other outlets on and offline. She has lent her voice to audiences at the Spaulding Rehabilitation Center in Charlestown, Massachusetts General Hospital, the Boston MDA Muscle Walk, local MDA IAFF Fill the Boot events, Cambridge City Hall, and, most recently, Girl's Night Out for Muscular Dystrophy – a Boston-area fundraising event held by NextonScene. Keisha is also the founder of a new non-profit, GCR adaptive project, where she collaborates with university fashion departments to teach the importance of adaptive fashion for people with disabilities. Keisha will also be launching her adaptive swimwear collection in March 2021.
Mindy Scheier – Before starting the Runway of Dreams Foundation in 2014, Scheier spent 20 years working in fashion on the design team for the INC collection and as a stylist for Saks Fifth Avenue. Mindy was inspired to start Runway of Dreams after her son Oliver, who has Muscular Dystrophy, dreamed of wearing jeans like everyone else. After using her design skills to adapt a pair that met his needs and increased his confidence, she went on to conduct extensive research to develop modifications that would meet the needs of the largest minority in our world- people with disabilities. Following its launch, Runway of Dreams partnered with Tommy Hilfiger on the first mainstream adaptive clothing line for kids and continues to with many mainstream brands such as Target and Zappos. Founded on the basis that clothing is a basic human need, Runway of Dreams develops, delivers, and supports initiatives to broaden the reach of mainstream adaptive clothing and promote people with disabilities in the fashion industry. Due to the overwhelming amount of requests received at Runway of Dreams from a multitude of brands and industries for connection to PWDs, in 2019, Mindy created Gamut Talent Management to represent people with disabilities and create a marketplace where businesses and industries can connect to this target audience. Gamut is rebranding the way PWDs are viewed, marketed to and represented in the mainstream world. The continued support of the mission of Runway of Dreams will always be a component of Gamut, as the company's 501c3 partner.
Alicia Dobosz serves as the MDA Director of Recreation & Camp Programs. She assumes overall leadership of MDA recreational programs nationwide, which provide opportunities for youth and young adults to develop skills, build confidence, and participate in new experiences. In 2020, this included a collaboration with Open Style Lab, a program dedicated to creating functional wearable solutions for people of all abilities. She also oversees the strategy, logistics, and implementation of the MDA Summer Camp Program, which serves thousands of camp participants annually. Alicia has dedicated her career to supporting youth and young adults with disabilities and holds a Bachelor of Science in Kinesiology and a Master of Science in Rehabilitation from the University of Illinois, Urbana-Champaign. She is certified in Volunteer Administration and has previously served in roles at MDA working with the national volunteer program and the Care and Clinical Services team in Chicago.
For 70 years, the Muscular Dystrophy Association (MDA) has been committed to transforming the lives of people living with muscular dystrophy, ALS, and related neuromuscular diseases. We do this through innovations in science and innovations in care. As the largest source of funding for neuromuscular disease research outside of the federal government, MDA has committed more than $1 billion since our inception to accelerate the discovery of therapies and cures. Research we have supported is directly linked to life-changing therapies across multiple neuromuscular diseases. MDA's MOVR is the first and only data hub that aggregates clinical, genetic, and patient-reported data for multiple neuromuscular diseases to improve health outcomes and accelerate drug development. MDA supports the largest network of multidisciplinary clinics providing best-in-class care at more than 150 of the nation's top medical institutions. Our Resource Center serves the community with one-on-one specialized support, and we offer educational conferences, events, and materials for families and healthcare providers. MDA Advocacy supports equal access for our community, and each year thousands of children and young adults learn vital life skills and gain independence at summer camp and through recreational programs, at no cost to families. During the COVID-19 pandemic, MDA continues to produce virtual events and programming to support our community when in-person events and activities are not possible. MDA's COVID-19 guidelines and virtual events are posted at mda.org/COVID19. For more information, visit mda.org.