About Us
Our mission is to empower people living with neuromuscular diseases to live longer, more independent lives.
Workforce Inclusion Platform for People with Disabilities to be Featured on KSDK's 'Show of Strength' Fundraiser benefiting Muscular Dystrophy Association September 4 Live from St. Louis
ST. LOUIS, MO – August 31, 2022 – The 35th annual 'Show of Strength' fundraiser on KSDK 5 On Your Side, the NBC affiliate in St. Louis, will feature the innovative partnership between the Muscular Dystrophy Association (MDA) and Inclusively, a workforce inclusion platform for job seekers with disabilities, headquartered in St. Louis, Missouri. Leaders from both organizations will be featured on the program hosted by MDA Tribute Award recipient, Mike Bush, live from Grant's Farm, on the 2-hour primetime special from 8-10pm CT to benefit the mission of MDA. Bush will spotlight employment for people with disabilities and address some misconceptions and solutions for the viewers.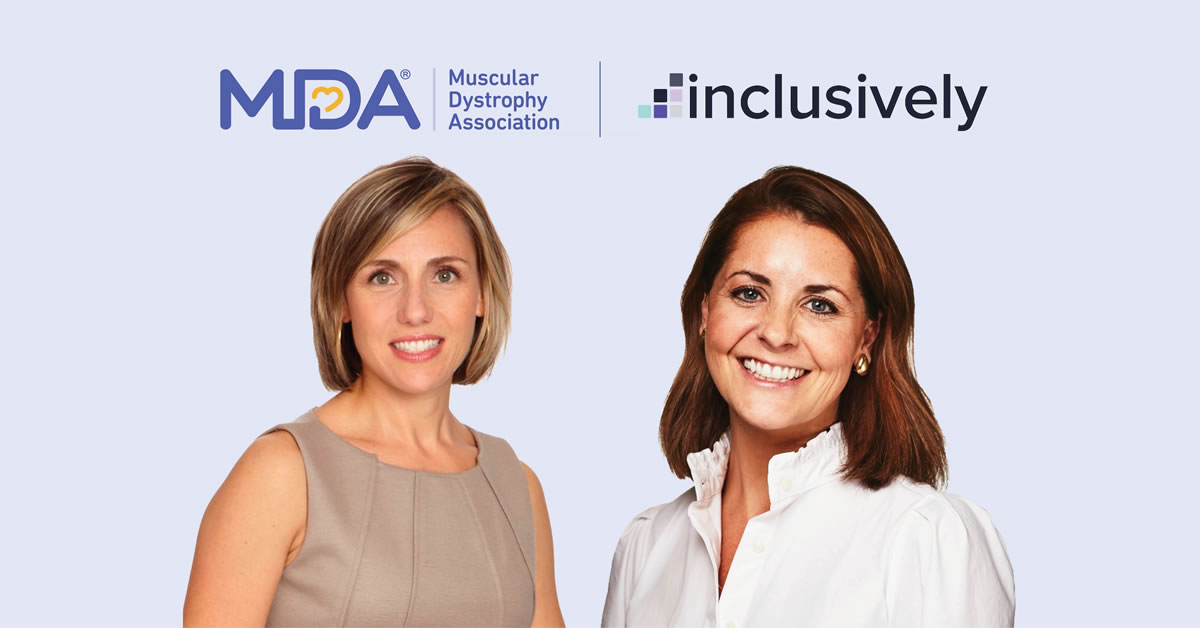 "MDA has been there all along, promoting diversity, equity, and inclusion, elevating the conversation of disability is diversity," says Kristine Welker, Chief of Staff, MDA. "We work to ensure everyone has the same access to personal freedoms and independence to fully participate in all aspects of community life. Our advocacy efforts through the years have provided better access to health care, higher education, employment, and more accessible travel, and working with partners like Inclusively makes a powerful impact to bridge the gap between people living with disabilities and organizational ability to connect with the largest untapped pipeline of talent."
MDA collaborates with disability experts and advocates as employers embrace a remote work environment and realize that the workplace is now infinitely more accessible to people with disabilities. MDA aims to promote and deliver opportunities for dialogue that enhances understanding and emphasizes the lived experience of the disability community through education, programming, resources, and advocacy, aimed at overcoming barriers to achieving life's milestones and ensuring inclusion for all.
"One in four people have a disability and only 33% of working age Americans with disabilities are employed, leaving a talent pool with incredible skill sets that is essentially 'hidden' from employers," says Sarah Bernard, Co-Founder and Chief Operating Officer, Inclusively. "Until now, there hasn't been a solution that connects employees with disabilities with compatible jobs and helps companies adapt to employees' accommodations needs. Our partnership with MDA exemplifies how powerful the Inclusively platform is – and it's a game changer to leverage our collective voice and resources to promote diversity, equity, inclusion and accessibility, and elevate the conversation around disability as a key part of diversity."
MDA continues to be a leader in removing barriers to employment for people with disabilities. As employers embrace a remote work environment, they realize that the workplace is now infinitely more accessible to the disability community.
"Inclusively recommended that I apply to my current position at MDA. As someone with a neuromuscular disability myself, it is the honor of my lifetime to work at MDA to continue the effort of providing people across the NMD community effective access to healthcare. I do this not only because the work is important, but also because the people here at MDA care about people like me—not just as constituents, but as people. Our hiring practices are just one example of it," says Joel Cartner, Director, Access Policy, MDA.
Tune-In/Donate Info:
Donations may be made at MDA.org/ShowOfStrength or text GiveMDA to 314-425-5355 to get the link to donate on your phone. Watch the show live on 5 On Your Side, KSDK.com, KSDK News YouTube, and the new 5+ app for Roku and Fire TV.
Inclusively's workforce inclusion platform empowers employers with the insights, access, training and support they need to attract and retain previously hidden talent. Employers obtain aggregated access to the fragmented network of nonprofits and training programs that support diverse talent. Candidates are submitted for jobs with valuable data around their accommodation requests, enabling companies to set up an inclusive experience at the front door. When companies accommodate candidates and set them up for success, they have higher retention rates and increased overall productivity. To learn more about how to create a diverse workforce culture, please visit www.inclusively.com.
Muscular Dystrophy Association (MDA) is the #1 voluntary health organization in the United States for people living with muscular dystrophy, ALS, and related neuromuscular diseases. For over 70 years, MDA has led the way in accelerating research, advancing care, and advocating for the support of our families. MDA's mission is to empower the people we serve to live longer, more independent lives. To learn more visit mda.org and follow MDA on Instagram, Facebook, Twitter, TikTok, and LinkedIn. 
Find MDA
in your Community