About Us
We're here to transform the lives of people affected by neuromuscular disease.
Muscular Dystrophy Association Launches MDA Let's Play, A Community Fundraising Platform for Gaming
NEW YORK, March 12, 2020 /PRNewswire/ -- The Muscular Dystrophy Association (MDA) is launching MDA Let's Play and will have its first Game-a-thon event with famous Twitch influencer, Wade, known as Minion777 on Twitch and LordMinion777 on YouTube. Wade's stream will feature many games, special guests, audience participation, and donation incentives in support of MDA's mission to transform the lives of people living with muscular dystrophy, ALS and related neuromuscular diseases. The event is being streamed around the globe, open for anyone to join this Sunday, March 15, from 1-7pm EST at MDAletsplay.org.
"We're using gaming as a medium to bring people together to both raise awareness and raise money for a great cause. Gaming is a way to connect people to real-world issues and in the past few years has cultivated entirely new audiences in support of great causes like MDA. My hope is that this stream will continue that trend." said Wade.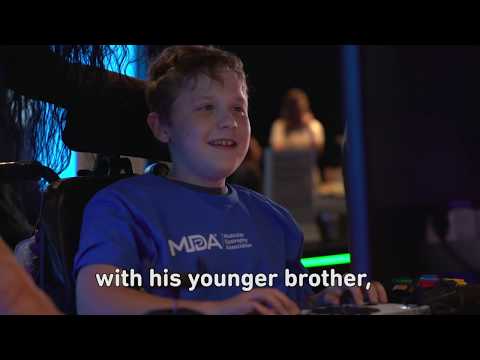 Following the March 15 streaming event, the first MDA Game Night will take place on Saturday, March 21 from 7-10pm EST. Gamers everywhere are invited to participate in this all Fortnite event, and can get all the information they need to participate, by joining the MDA Let's Play Discord. Non-gamer friends and family can watch the fun on the MDA Twitch channel, MDA Game Night is the website to build a stronger community among MDA families from across the country, and will include a fundraising component for supporters who wish to raise money for MDA. All Game Night fundraising is facilitated via links in the stream that direct donors to the MDA Let's Play site and funds raised support MDA's groundbreaking scientific research, innovations in care, and MDA Summer Camp for children with neuromuscular diseases.
MDA is also developing a powerful presence at major E-Sports events, and will be selling MDA Shamrocks at this weekend's CEO Dreamland, as well as at Combo Breaker in May and at the CEO Fighting Championships in June.
MDA created and produced the historic and iconic Jerry Lewis MDA Telethon for decades which, along with critical partnerships and public support, has raised over $1 billion dollars to fund urgently needed research and care for people living with muscular dystrophy, ALS and related neuromuscular diseases. MDA's investment has led in part to nine FDA approved treatments in the past five years with many promising treatments in the pipeline to come.
"We've always been an iconic American charity with innovative fundraising programs to achieve our mission of transforming lives – from the telethon to pinup campaigns and now gaming," said Lynn O'Connor Vos, president and CEO of MDA. "The communities we serve, our volunteers and partners are involved in gaming and it gives them independence and freedom and joy to have fun and connect with friends online," she continued.
MDA Game Night is open to all gamers who are part of the MDA family or wish to join the mission to raise critical funds for research and care for our community.
Since 1950, the Muscular Dystrophy Association (MDA) has been committed to transforming the lives of people affected by muscular dystrophy, ALS and related neuromuscular diseases. We do this through innovations in science and innovations in care. As the largest source of funding for neuromuscular disease research outside of the federal government, MDA has committed more than $1 billion since our inception to accelerate the discovery of therapies and cures. Research we have supported is directly linked to life-changing therapies across multiple neuromuscular diseases. MDA's Neuromuscular ObserVational Research (MOVR) data hub gathers longitudinal clinical data for multiple neuromuscular diseases to improve health outcomes and accelerate therapy development. MDA supports the largest network of multidisciplinary clinics providing best in class care at more than 150 of the nation's top medical institutions, and our national resource center serves the community with one-on-one specialized support and we offer educational conferences, events, and materials for families and healthcare providers. Each year thousands of children and young adults learn vital life skills and gain independence at summer camp and through recreational programs, at no cost to families. For more information visit mda.org.
SOURCE: Muscular Dystrophy Association
Find MDA
in your Community