About Us
Our mission is to empower people living with neuromuscular diseases to live longer, more independent lives.
MDA Kicks-Off Annual Muscle Walk Season in Local Communities Nationwide to Fight Back Against Muscle Disease
– Small Steps Fund Powerful Progress –

#MuscleWalk
CHICAGO, Feb.  27, 2015 — Thousands of people in local communities nationwide will take a small step to fund powerful progress for the Muscular Dystrophy Association during the 2015 MDA Muscle Walk season by raising critical funds and awareness that will help save and improve the lives of children and adults fighting muscle disease.
"MDA Muscle Walk events unite and rally communities to raise funds and accelerate progress for people whose abilities to move are compromised — including everyday abilities like walking, running, hugging, talking and even breathing," said MDA President and CEO Steven M. Derks. "Everyone is invited to register for a Muscle Walk event in their area today. Support from sponsors and participants helps MDA assist families facing the challenges that muscle disease brings, maintain independence and invest in state-of-the-art scientific research for treatments and cures."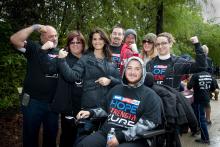 MDA Muscle Walk is the largest, most inspiring event of its kind, bringing communities together — donors, families, partners, sponsors and volunteers — to fight back against muscle disease. Approximately 150 walks throughout the nation are scheduled in 2015, beginning with the MDA Muscle Walk of Austin, Texas on Saturday, Feb. 28. To sign up for, or donate to, an MDA Muscle Walk in your area, visit musclewalk.org.
Funds raised through the Muscle Walk program help MDA push science to its limits in the search for treatments and cures and support MDA's life-enhancing programs such as state-of-the-art support groups and clinics. They also make MDA summer camp possible so kids with muscle disease can enjoy "the best week of the year" at nearly 80 locations nationwide.
Last year, more than 40,000 people participated in 140 MDA Muscle Walks across the country and raised a record-breaking $8.5 million. More than $26 million has been raised through Muscle Walk since the program's inception in 2011.
For up-to-date information about MDA Muscle Walk, follow us on Facebook (facebook.com/musclewalk).
The MDA Muscle Walk program is supported by three national partners who not only help underwrite the nationwide program, but engage with participants throughout the year to help MDA families.
BodyBuilding.com: Bodybuilding.com will return as an MDA Muscle Walk Muscle Partner. Based in Boise, Idaho, Bodybuilding.com is the world's largest online sports nutrition store. The site carries more than 13,500 health and fitness supplements and accessories, shipping to customers in more than 155 countries. Bodybuilding.com helps more than 29 million people every month achieve their health, fitness and appearance goals by offering over 35,000 pages of FREE information, including more than 25,000 articles and 10,000 videos, expert-designed online training programs, and new content added daily.  For more information, please visit www.bodybuilding.com.
Quantum® Rehab, a Pride Mobility Products company, is also a returning MDA Muscle Walk national partner. Quantum is the premier leader in the design and manufacturing of high-performance, aesthetically-pleasing, user-focused complex rehab products, including power chairs and power positioning seating systems to meet the widest range of needs and enhance quality of life.
About MDA
The Muscular Dystrophy Association is the world's leading nonprofit health agency dedicated to saving and improving the lives of people with muscle disease, including muscular dystrophy, amyotrophic lateral sclerosis (ALS) and other neuromuscular diseases. It does so by funding worldwide research to find treatments and cures; by providing comprehensive health care services and support to MDA families nationwide; and by rallying communities to fight back through advocacy, fundraising and local engagement.
Visit mda.org and follow us at facebook.com/MDAnational and @MDAnews. Learn more about MDA's mission by watching this video.
Roxan Olivas
MDA Vice President  — Public Relations & Community Programs
(520) 529-5317
rolivas@mdausa.org
Find MDA
in your Community