About Us
Our mission is to empower people living with neuromuscular diseases to live longer, more independent lives.
Muscular Dystrophy Association Elects Governor Brad Henry as Chairman and Christopher Rosa, Ph.D. as Vice Chairman of the Board of Directors
MDA's Board of Directors comprises experts from across the country with longstanding commitment and connection to the mission for the neuromuscular disease community.
NEW YORK, January 9, 2023 – The Muscular Dystrophy Association (MDA) announced today the election of new Board of Directors leadership. Governor Brad Henry will now serve as Chairman of the Board of Directors of MDA and Christopher Rosa, Ph.D. will serve as the Vice Chairman. Governor Henry has been a committed and dedicated Board member for over a decade, and Dr. Rosa, has been a devoted member of the Board for decades. Both are also exceptional leaders in their fields, with strong personal ties to the community MDA serves.
MDA is extremely grateful for the leadership of outgoing Chairman Steven J. Farella, who provided thoughtful leadership and direction for the organization over his three-year term in the role. Farella tirelessly volunteered his time, talent, and resources to support MDA's mission in a variety of capacities over the past 30 years.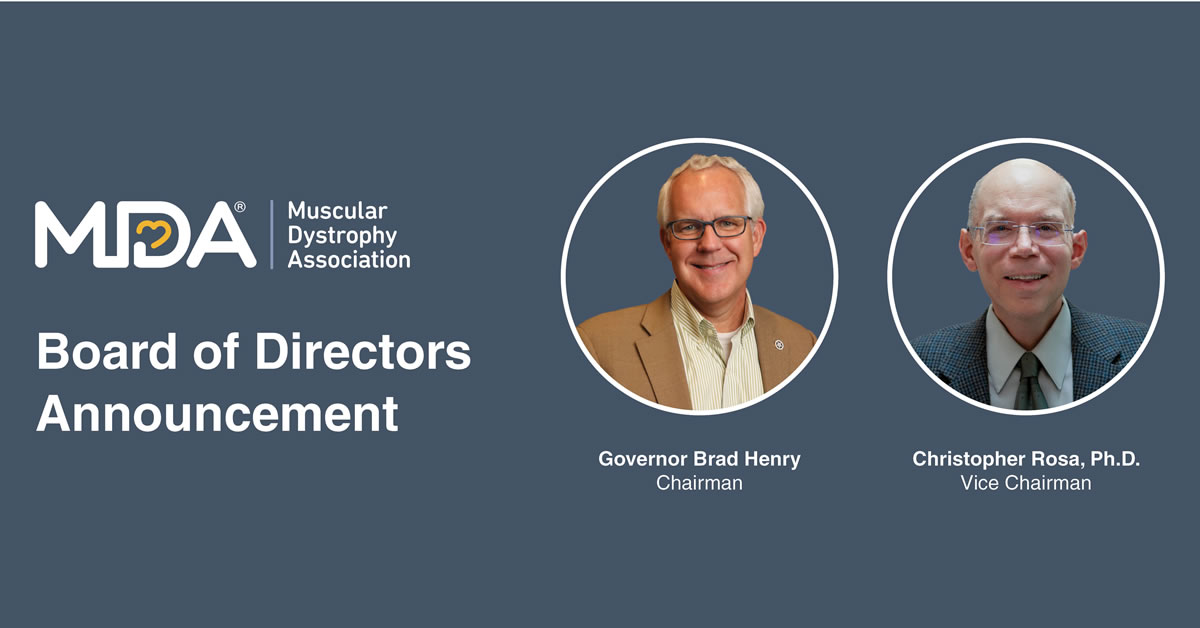 "We are very pleased to share that both Governor Brad Henry and Dr. Chris Rosa have accepted their new positions on the Board of Directors of the Muscular Dystrophy Association," said Donald S. Wood, Ph.D., President and CEO, MDA. "They have been tremendous assets to building our organization's future and their leadership will help us as we continue to create ever more hope for the millions of patients and their families who are at the heart of MDA's mission and vision. I have never worked alongside a Board with this level of expertise and commitment and with their guidance and support, MDA will continue to make the impossible possible."
"Working with the Muscular Dystrophy Association I have seen firsthand the incredible progress the organization has made," said Governor Henry. "I am honored and humbled to take on this new role and look forward to continuing to work with Dr. Rosa, Dr. Wood and the rest of the Board as we advance this life-changing organization and empower the people we serve to live longer, more independent lives."
Governor Henry, a third generation Oklahoman, was born in Shawnee, Oklahoma. Henry studied at the University of Oklahoma as a President's Leadership Scholar, earning a bachelor's degree in economics in 1985 and receiving the Letzeiser Gold Medal as the outstanding senior man. In 1988, he received a law degree from the University of Oklahoma College of Law, where he served as Managing Editor of the Law Review. After returning to Shawnee to practice law with his father, Henry served as a member of the Oklahoma State Senate for ten years. Henry was sworn in as the 26th Governor of Oklahoma in January 2003 and was reelected in November 2006.
"The opportunity to serve for 26 years on the Board of MDA, an organization that has done so much to promote wellness, opportunities, and hope for families like mine, has been one of the great honors of my personal and professional life. To have been elected by my peers on the Board – each of them value-centered, renowned leaders with decades of service to MDA's life-saving mission – is very humbling to me," said Dr. Rosa.
Dr. Rosa became President & CEO of The Viscardi Center, a network of non-profits that educate, employ, and empower children and adults with disabilities, in January 2022. He also serves as President of the internationally renowned Henry Viscardi School. Dr. Rosa is a staunch advocate for equity and economic justice for people with disabilities, being a wheelchair-user since age 12 who has limb-girdle muscular dystrophy. A published disability studies scholar, he serves in national leadership roles for organizations that promote access and wellness for Americans with disabilities. He is also a sought-after orator and speaks frequently on higher education and social mobility for people with disabilities; disability as a key dimension of diversity, equity, & inclusion; disability and intersectionality; and American disability culture. Learn more about Dr. Rosa in MDA's Quest for Success feature here.
MDA is honored to have the following members of its Board of Directors with longstanding commitment, expertise and governance to further its critical mission: Governor Brad Henry, Chairman; Christopher Rosa, Ph.D., Vice Chairman; and Directors, Anjan Aralihalli, John R. Costantino, Esq., Benjamin Cumbo, III, Dan Fries, Ankur Ghia, Jennifer Gottlieb, John Howell, Nancy Kindelan, Louis Kunkel, Ph.D., Elizabeth McNally, M.D., Ph.D. Hon. Robert Pipia, Matt Plummer, Charles D. Schoor, Esq., Mark Smith, Eugene Williams, Lilian Wu, Ph.D. All these extraordinary leaders demonstrate the core values and commitment of the organization and are dedicated to fulfilling its mission.
In Memoriam:
MDA mourns the loss of Board Member Victor R. Wright, on December 17. Wright was an accomplished Wall Street trader and executive, and a passionate philanthropist who served as stalwart member of the MDA Board for more than 30 years, including serving as its Treasurer and Executive Committee Member. Through his keen insights into the lived experience of muscle disease, Wright was intimately engaged in all aspects of MDA's life-saving mission, including its path-breaking research program, national network of care centers, and independence-fostering summer camp program. MDA extends its profound sympathy to his wife Joann and daughters, Jennifer, and Samantha. We will be forever grateful for his legacy and leadership.
About MDA
Muscular Dystrophy Association (MDA) is the #1 voluntary health organization in the United States for people living with muscular dystrophy, ALS, and related neuromuscular diseases. For over 70 years, MDA has led the way in accelerating research, advancing care, and advocating for the support of our families. MDA's mission is to empower the people we serve to live longer, more independent lives. To learn more visit mda.org and follow MDA on Instagram, Facebook, Twitter, TikTok, LinkedIn, and YouTube.
Find MDA
in your Community