About Us
Our mission is to empower people living with neuromuscular diseases to live longer, more independent lives.
Muscular Dystrophy Association Announces TSA Partnership to Provide Employee Training Resources
Muscular Dystrophy Association (MDA) partners with the Transportation Security Administration (TSA) to progress accessible air travel campaign for passengers with disabilities.
NEW YORK, November 2, 2023 -- The Muscular Dystrophy Association (MDA) announced today a partnership with the Transportation Security Administration (TSA) to establish training for TSA officers focused on interactions with travelers living with neuromuscular disease and other disabilities affecting their mobility. The training leverages the experiences of MDA advocates to educate officers so that traveler safety, comfort, and dignity remains intact. Educational training will include the MDA video showing the common indignities of air travel for people with disabilities who depend on power wheelchairs and other mobility devices. In addition, MDA will be supporting the TSA Cares program by sharing available resources with travelers from the neuromuscular disease community it serves, and the disability community at large.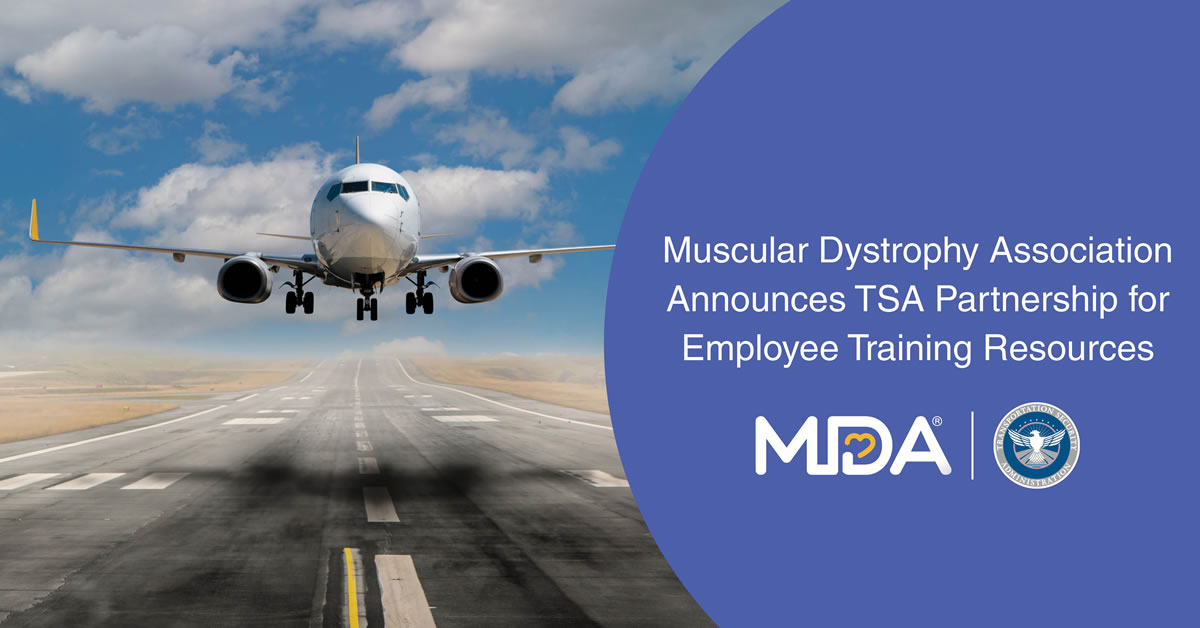 "Much of the air travel experience for people with disabilities is demeaning, dehumanizing, undignified, and even sometimes dangerous. While TSA's security review of people with disabilities may be just one part of the experience, this partnership is a step toward a more secure, accessible, and equitable air travel experience for all individuals who are living with disabilities," said Paul Melmeyer, Vice President, Public Policy and Advocacy, MDA. "Muscular Dystrophy Association has continued to be a front-line advocate for accessible air travel. We helped lead the charge to make airport lavatories accessible in the next ten years, and hopefully later this year the US House-passed legislation supported by thousands of MDA's advocates to reauthorize the Federal Aviation Act (FAA) will be signed into law. We are tireless in our efforts to make air travel more accessible for the families we serve."
"It brings me hope to see that my difficult experiences of traveling through an airport and on a plane, among many others who live with disabilities, have been noticed and that there are steps being taken by TSA to address the disconnect of processes and training among its employees," said Mindy Henderson, Editor-In-Chief, Quest Media, Muscular Dystrophy Association, who lives with a neuromuscular disease and has shared her own experiences as an air traveler. "This initiative will not only progress the conversation but bring better awareness to the reality of the inequities, anxiety and fear people living with disabilities face when they travel, and in turn push for additional actions to be taken by organizations including TSA."
The training curriculum to become a fully certified Transportation Security Officer requires about 200 hours of instruction. This video will be instrumental in preparing officers for their role play exercises that are intended to simulate challenging checkpoint situations.
"We are grateful for the partnership that we have with the Muscular Dystrophy Association in putting together this training video. At TSA, we work diligently to ensure that our security screening is thorough yet respectful of every passenger's dignity, safety, and comfort," said TSA Assistant Administrator Christine Griggs, who leads the agency's Office of Civil Rights & Liberties, Ombudsman & Traveler Engagement. "Through respectful encounters and mutual respect, TSA relies on the insights of travelers to help us evolve in meeting the needs of the communities that we serve."
To show continued support of this partnership, Mindy Henderson will be attending a recognition ceremony as a representative of the Muscular Dystrophy Association on November 7th at the Austin Bergstrom Airport to honor the TSA officers who provided exemplary service throughout her travel experience.
The TSA also provides resources including TSA Cares for people traveling with or accompanying an individual who require accommodations during the airport security screening process. TSA Cares is a helpline to assist travelers with disabilities and medical conditions and is available online or by phone at (855) 787-2227. In addition, AskTSA is another resource where passengers may reach out to TSA via social media or text with any questions on the screening process.
About MDA's Accessible Air Travel advocacy campaign
In May, MDA Advocates went to Capitol Hill to speak with lawmakers who sit on key committees about accessible air travel for inclusion in the FAA reauthorization. In addition, to the video above, featuring MDA's Quest Media editor in chief, Mindy Henderson, MDA released a companion video featuring MDA Advocate and disability activist Madison Lawson, which documents a treacherous experience on a recent flight. That video garnered over 2 million views and thousands of messages to Capitol Hill. MDA Advocate Maceo Carter also shared his experience with damage to his wheelchair in USA Today. In total, MDA advocates have sent over 10,000 messages to lawmakers in 2023 urging them to make air travel accessible for people living with disabilities. To join MDA's #AccessibleAirTravel campaign go to MDA.org/AirTravel and follow @MDA_Advocacy.
About Muscular Dystrophy Association
Muscular Dystrophy Association (MDA) is the #1 voluntary health organization in the United States for people living with muscular dystrophy, ALS, and related neuromuscular diseases. For over 70 years, MDA has led the way in accelerating research, advancing care, and advocating for the support of our families. MDA's mission is to empower the people we serve to live longer, more independent lives. To learn more visit mda.org and follow MDA on Instagram, Facebook, X, Threads, TikTok, LinkedIn, and YouTube.
About TSA
TSA was created in the aftermath of 9/11 to oversee security in all modes of transportation and completed federalization of security operations by the end of 2002. TSA became part of the Department of Homeland Security in March 2003, making up a quarter of the DHS workforce. TSA's scope includes commercial and general aviation; mass transit systems; freight and passenger rail; highways, pipelines and ports.
TSA practices an intelligence driven, risk-based approach to security, comprising multiple security methods while utilizing cutting-edge technology and maintaining a flexible, highly trained workforce.
Find MDA
in your Community