About Us
Our mission is to empower people living with neuromuscular diseases to live longer, more independent lives.
Halo Therapeutics Receives $500,000 MDA Award to Develop Drug for Duchenne Muscular Dystrophy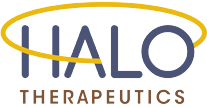 NEWTON, Mass., and TUCSON, Ariz., Nov. 14, 2013 — Halo Therapeutics LLC and the Muscular Dystrophy Association (MDA) today announced that $500,000 has been awarded for development of the experimental drug HT-100 as a treatment for Duchenne muscular dystrophy (DMD). The award to Halo, a subsidiary of DART Therapeutics Inc., comes from MDA Venture Philanthropy (MVP), part of MDA's translational research program.
HT-100 is an oral compound designed to combat excessive inflammation and scar formation ("fibrosis") in muscle tissue and to promote healthy muscle fiber regeneration. HT-100 is currently being tested in a multicenter clinical trial in 30 boys and young men with DMD.
DMD is one of nine types of muscular dystrophy, a group of genetic, degenerative diseases primarily affecting voluntary muscles. Caused by mutations in the gene that makes dystrophin (a protein that normally protects muscle cells and keeps them intact), DMD eventually weakens all skeletal muscles (including those used for breathing) and the heart. DMD affects approximately 1 in 3,500 boys with an estimated patient population exceeding 50,000 worldwide.  
"We are extremely pleased to have the support of the MDA as we continue development of HT-100," said Marc Blaustein, DART's chief business officer. "This significant award comes at a crucial time, as we have transitioned to clinical testing of HT-100. Ours is a battle against the clock, and this funding from MDA's MVP helps ensure that we can continue rapid progress toward developing HT-100 as a therapy for boys and young men with DMD."
Jane Larkindale, MDA's vice president of research, said, "Excessive inflammation and fibrosis in muscle can interfere with muscle regeneration and can be a significant barrier to certain therapies now in development, such as gene replacement. Drugs like HT-100 have the potential to be used on their own or in conjunction with other treatments. A rigorous review process conducted by MVP has determined that Halo has the capability of taking HT-100 forward in an efficient and safe manner."
About Halo Therapeutics
Halo Therapeutics LLC, is a wholly-owned subsidiary of DART Therapeutics Inc. Based in Newton, Mass., Halo is a clinical-stage biopharmaceutical firm focused on developing innovative therapies for rare fibrotic diseases like Duchenne muscular dystrophy. Founded through a collaboration between patient advocacy organizations and industry veterans, the company is partnering with the clinical community and patients to transform therapeutic options and, by extension, lives. For more information, please visit halotherapeutics.com and dartrx.com.
About MVP
MDA Venture Philanthropy, the drug development arm of the Muscular Dystrophy Association's translational research program, made the award to Halo. The funding will allow completion of a phase 1b/2a clinical trial of HT-100 in 30 patients with DMD. This type of trial and often additional clinical trials are needed before the U.S. Food and Drug Administration (FDA) can approve a new drug for use in patients.
About MDA
The Muscular Dystrophy Association is the world's leading nonprofit health agency dedicated to finding treatments and cures for muscular dystrophy, amyotrophic lateral sclerosis (ALS) and other neuromuscular diseases. It does so by funding worldwide research; by providing comprehensive health care services and support to MDA families nationwide; and by rallying communities to fight back through advocacy, fundraising and local engagement. Visit mda.org and follow us at Facebook facebook.com/MDAnational and Twitter @MDAnews.
Find MDA
in your Community