About Us
Our mission is to empower people living with neuromuscular diseases to live longer, more independent lives.
CureDuchenne, Muscular Dystrophy Association, and Parent Project Muscular Dystrophy Announce Collaborative Project to Focus on Re-Dosing Gene Therapy in Duchenne Muscular Dystrophy
NEW YORK, June 15, 2023 – CureDuchenne, Muscular Dystrophy Association (MDA), and Parent Project Muscular Dystrophy (PPMD), today announced a collaborative clinical trial grant to test repurposing of the FDA-approved drug Vyvgart (developed by argenx), for its potential ability to reduce antibodies to adeno-associated virus (AAV) in Duchenne muscular dystrophy (DMD) patients. The three organizations provided $100,000 each to sponsor a one-year clinical study led by investigator Barry Byrne, M.D., Ph.D., Chief Medical Advisor, MDA and Director of the Powell Gene Therapy Center at the University of Florida to assess the safety and efficacy of efgartigimod alfa-fcab (Vyvgart) to lower AAV antibodies precluding DMD patients from gene therapy. Vyvgart is an approved drug currently used to treat autoimmune diseases by reducing overall levels of circulating IgG antibodies. It has proven effective in reducing pathogenic acetylcholine receptor antibodies present in myasthenia gravis (MG). The study will investigate whether Vyvgart has the ability to reduce AAV antibodies to levels compatible with safe and effective delivery of gene therapies in DMD patients. Positive results from this study may be applicable to the translation of AAV gene therapies for other neuromuscular diseases.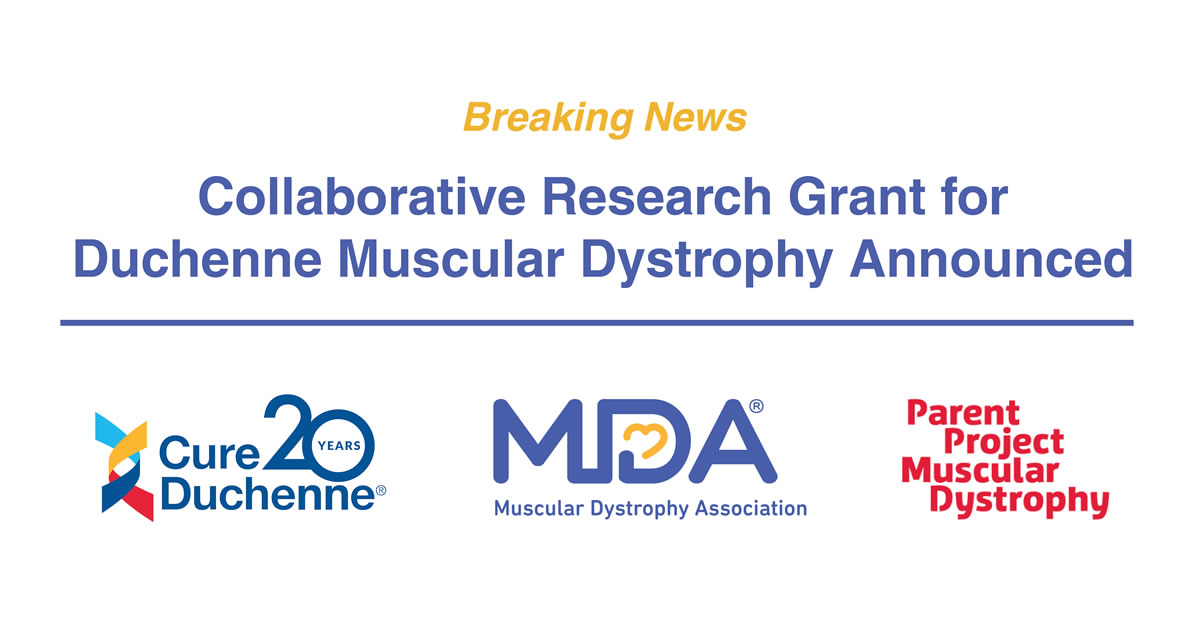 "We are grateful to the Muscular Dystrophy Association, Parent Project Muscular Dystrophy, and CureDuchenne for this funding, which lets us test novel strategies to ensure that gene therapy is as inclusive as it can be," said Barry Byrne, M.D., Ph.D., MDA Chief Medical Advisor, and Associate Chair of Pediatrics and Director of the Powell Gene Therapy Center at the University of Florida. "We are just beginning to realize the impact of gene therapies that can treat the underlying root cause of genetic diseases. Disease-modifying therapies are no longer a thing of the future. Our goal now is to figure out how to best maximize and achieve the biggest impact with the technology in our hands."
Gene replacement therapy for DMD has long been an attractive therapeutic prospect in targeting the root cause of the disease, with the aim of restoring dystrophin protein function. Several companies including Sarepta, Solid Biosciences, Pfizer, and Regenxbio have undertaken clinical trials with truncated dystrophin constructs for gene therapy. This co-funded clinical trial aims to suppress anti-AAV antibodies in a subset of DMD patients who are currently not eligible for gene therapy due to pre-existing AAV antibodies from natural infections. The trial will also explore the potential for reducing in DMD patients anti-AAV antibodies acquired from previous participation in gene therapy trials in order to enable future redosing efforts.
This trial is an open-label, single center, multi-arm, phase II study to take place at Powell Center for Rare Disease Research and Therapy, located in Gainsville, Florida. A total of 12 DMD patients will participate in the study – six with elevated anti-AAV titers prior to gene therapy and six with elevated titers post-gene therapy. The primary outcome of the study will be to assess the ability of Vyvgart to lower anti-AAV capsid antibody pre and post exposure to AAV. The secondary outcome of the study will be to determine safety and tolerability of Vyvgart in boys with DMD.
"We are pleased to partner with these organizations to support this important study, led by Dr. Byrne," said Debra Miller, founder and CEO of CureDuchenne. "As we pursue our mission of bringing transformative treatments to more individuals with Duchenne, we must overcome the limitations of adeno-associated virus (AAV)-administered gene therapy. We are hopeful that this study will support a clinical strategy to effectively administer gene therapy to individuals with pre-existing AAV-neutralizing antibodies, who are currently excluded from treatment, and to help pave a path towards re-dosing individuals who have already received an AAV-delivered gene therapy."
"Our three organizations (MDA, CureDuchenne and PPMD) came together in recognition of the importance of strategizing for as many DMD patients to be eligible for gene therapy as possible," said Sharon Hesterlee, Ph.D., Chief Research Officer, MDA. "Should an approved drug be able to reduce AAV antibodies to acceptable levels it would serve as an efficient way to open doors for patients who are currently ineligible for gene therapy. This approach could also possibly provide re-treatment options for patients who are starting to see a reduction in drug effect, although the hurdle would be higher there."
"We are thrilled to be able to collaborate with CureDuchenne and MDA in order to fund meaningful research that could impact many individuals living with Duchenne," said Eric Camino, PhD, PPMD Vice President of Research and Clinical Innovation. "Gene therapy delivered by AAV represents a potentially transformative therapy for patients, but some individuals are barred from accessing these AAV delivered therapies due to pre-existing antibodies. This research could create a pathway for broadening who can access AAV-mediated gene therapy; lowering the antibodies to AAV for a window of time could allow for individuals with pre-existing antibodies to be dosed."
About Duchenne muscular dystrophy
Duchenne muscular dystrophy (DMD) is a rare and progressive genetic muscle disease caused by the lack of a critical membrane-stabilizing protein called dystrophin, which results in muscle degeneration and weakness. Gene replacement strategies using AAV technology have proven to be a very promising approach for restoring dystrophin protein function and are currently being pursued by several companies. DMD symptom onset is in early childhood, usually between ages 2 and 3. The disease primarily affects boys, but in rare cases it can affect girls. In Europe and North America, the prevalence of DMD is approximately 6 per 100,000 individuals. Doctors often diagnose the disease between ages 3 and 6 when children show early signs of significant muscle weakness, such as delayed ability to sit, stand, or walk and difficulties learning to speak. Over time, DMD becomes fatal as muscle degeneration disrupts lung and heart function. There is no cure for DMD, however, lifespans have been extended and quality of life has been improved for many through physical therapy and medications to address certain symptoms.
About CureDuchenne
Twenty years ago, CureDuchenne was created with one goal: to find and fund a cure for Duchenne muscular dystrophy. Today, CureDuchenne is recognized as a global leader in research, patient care, and innovation for improving and extending the lives of those with Duchenne. CureDuchenne's innovative venture philanthropy model has advanced transformative treatments for Duchenne muscular dystrophy, including 17 projects that advanced to human clinical trials and multiple projects to overcome the limitations of first-generation exon-skipping and gene therapy. In addition, CureDuchenne contributed early funding to the first FDA-approved Duchenne drug, pioneered the first and only Duchenne physical and occupational therapist certification program and created an innovative biobank and data registry, accelerating research toward a cure. For more information on how to help raise awareness and funds needed for research, please visit cureduchenne.org. Follow CureDuchenne on Facebook, Instagram, YouTube, LinkedIn and Twitter.
About Muscular Dystrophy Association
Muscular Dystrophy Association (MDA) is the #1 voluntary health organization in the United States for people living with muscular dystrophy, ALS, and related neuromuscular diseases. For over 70 years, MDA has been at the forefront of advancements in DMD and has invested almost $227 million in research for DMD and Becker muscular dystrophy (BMD). As the largest source of funding for neuromuscular disease research outside of the federal government, MDA has invested more than $1 billion collectively in the laboratories of 7,000 scientists, helping build the entire field of neuromuscular disease biology and pioneering technologies such as the identification of disease-causing genes, gene therapy, antisense oligonucleotides, and, most recently, gene editing. Visit Grants at a Glance to view profiles of recently-funded MDA researchers and MDA Gene Therapy Support Network (GTx) for information, support and guidance on newly approved gene therapies. To learn more visit mda.org and follow MDA on Instagram, Facebook, Twitter, TikTok, LinkedIn, and YouTube.
About Parent Project Muscular Dystrophy
Parent Project Muscular Dystrophy (PPMD) is the largest most comprehensive nonprofit organization in the United States focused on finding a cure for Duchenne—our mission is to end Duchenne. We demand optimal care standards and strive to ensure every family has access to expert healthcare providers, cutting edge treatments, and a community of support. We invest deeply in treatments for this generation of Duchenne patients and in research that will benefit future generations. Our advocacy efforts have secured hundreds of millions of dollars in funding and won five FDA approvals.
Everything we do—and everything we have done since our founding in 1994—helps those with Duchenne live longer, stronger lives. We will not rest until we end Duchenne for every single person affected by the disease. Join our fight against Duchenne at EndDuchenne.org and follow PPMD on Facebook, Twitter, Instagram, and YouTube.
Find MDA
in your Community