Walk for Strength, Walk for Life
Join MDA Muscle Walk and walk or ride to help transform the lives of people affected by neuromuscular diseases.
Whether you can move on your own or need the assistance of a partner, team up with MDA to raise critical funds and awareness towards our mission.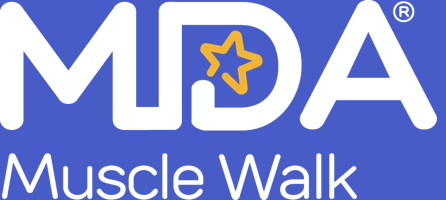 Go out and run or walk a 5K, take a virtual yoga or workout class, do a dance on social media, or make any move of your choice.
How it Works
Follow the steps below for a meaningful walk experience.
Register
Register as a participant or create a team. Having trouble getting registered? Email us at musclewalk@mdausa.org or visit our Frequently Asked Questions.
Set up your fundraising page
After you register, you'll have access to your own fundraising webpage. Customize your page with photos, share your inspiration for walking, and set your fundraising goal.
Ask for donations
Share your fundraising webpage with friends and family and ask them to give. Be sure to share why you're walking and thank your donors for their generosity.
Enjoy the event
The big day is here! Enjoy the event and walk or ride the course with pride knowing you've helped give strength for families with neuromuscular diseases.
Muscle Walkstars
These top fundraisers are breaking records and giving strength.
Top 10 Teams
Top 10 Fundraisers
Thank You to Our Partners