A Successful In-Person Conference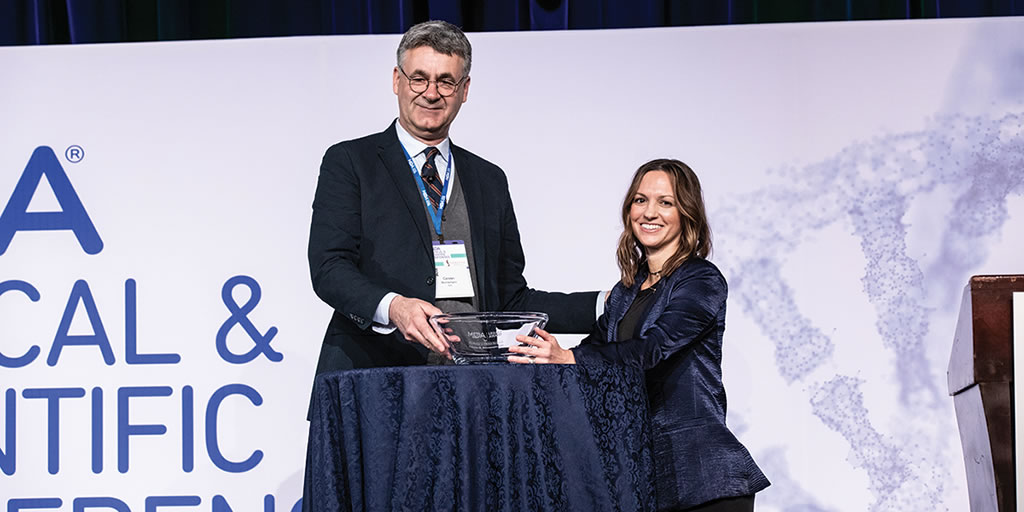 Amy Shinneman and Carsten Bönnemann, MD

MDA's 2022 Clinical & Scientific Conference was the world's largest meeting on neuromuscular disease care
In mid-March, more than 1,000 people gathered in Nashville, Tennessee, for MDA's 2022 Clinical & Scientific Conference.
"It's a delight to meet again in person," said MDA President and CEO Don Wood, PhD, in a welcome address. "For many of you, it's the first time on a plane in two years."
In fact, the four-day event held at the Gaylord Opryland Resort & Convention Center marked the world's largest meeting of neuromuscular disease healthcare providers, researchers, investors, patients, and caregivers, with 1,029 attendees from 15 countries.
In addition, the conference attracted 691 virtual participants via livestream and featured more than 120 speakers in 32 sessions with one full day of clinical trial updates.
The educational sessions covered timely topics, such as new gene discoveries, brain interface technology, and ethics in neuromuscular disease care, as well as the latest research on therapies for many different neuromuscular diseases.
"This is an exciting time in neuromuscular disease research … a time when we're developing a whole new approach: genetic medicine," Dr. Wood said. "Most of the diseases we cover are genetic in origin. And where there were no treatments 15 years ago, we now have 15 or 20 FDA-approved treatments, many of which originated with research funded by MDA."
Dr. Wood introduced Amy Shinneman, 47, our new MDA National Ambassador, who, along with current National Ambassador Ethan LyBrand, 12, will represent families living with neuromuscular diseases.
Amy, who lives with Bethlem myopathy, presented MDA's first Legacy Award for Achievement in Clinical Research — a new annual recognition for outstanding accomplishments in neuromuscular disease research — to Carsten Bönnemann, MD, of the National Institute of Neurological Disorders and Stroke, a division of the National Institutes of Health (NIH).
Dr. Bönneman's accomplishments include identifying beta and delta sarcoglycan genes as causes of limb-girdle muscular dystrophies (LGMD); developing preclinical animal models for congenital muscular dystrophies (CMD), which are now used to test exon-skipping therapies; establishing natural history and outcome measures for congenital myopathies toward clinical trials; and conducting the first AAV gene therapy trial for giant axonal neuropathy in humans.
In addition, Amy shared her story of living with Bethlem myopathy, a rare disease seen in fewer than 1 in 100,000 people. It affects the skeletal muscles and connective tissue and is characterized by slowly worsening muscle weakness and joint stiffness. She lives in the Indianapolis area with her husband and two teenage sons and has been active with MDA for much of her life.
"MDA Summer Camp turned out to be one of the best weeks of my life. I felt like I had found my people, but I really hadn't because I was still not diagnosed," she recalled. "I searched for a diagnosis for 27 years, during which time I went to college, got married, and had two beautiful boys. My husband and my boys very much led the journey searching for a diagnosis."
In 2018, Amy finally got her diagnosis. "My neurologist suggested genetic testing for myself and my parents," she said. "When we found out the answer, my family celebrated. For me, it's indescribable what it felt like. I was finally, formally introduced to myself — and I immediately started to heal from all the years of being unidentified."
MDA brought together Nashville-area families, volunteers, supporters, partners, and celebrities on March 17 for a Volunteer Tribute Reception at the Grand Ole Opry. Check out our event highlights and photos.
MDA Resource Center: We're Here For You
Our trained specialists are here to provide one-on-one support for every part of your journey. Send a message below or call us at 1-833-ASK-MDA1 (1-833-275-6321). If you live outside the U.S., we may be able to connect you to muscular dystrophy groups in your area, but MDA programs are only available in the U.S.
Request Information