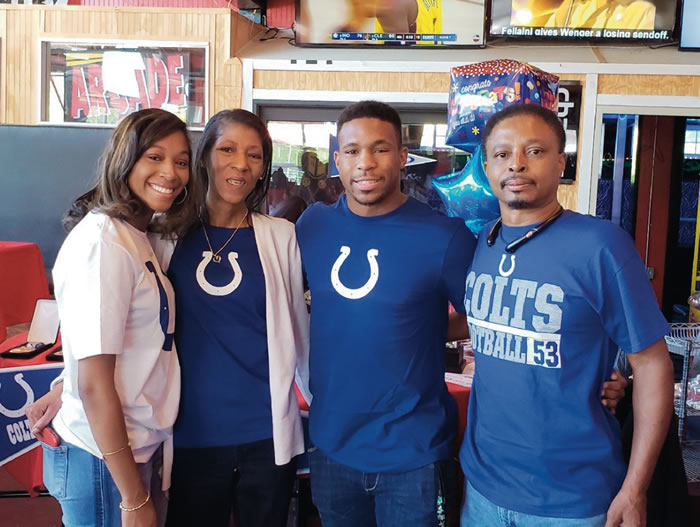 Nyheim Hines, center, stands with, from left, his sister, Nyah; his mother, Nannette; and his father, Darrin.

For Nyheim Hines, MDA's 2021 spokesperson, supporting the mission is personal
Indianapolis Colts running back Nyheim Hines, whose mother, grandmother, and uncle live or have lived with limb-girdle muscular dystrophy (LGMD), has been a longtime supporter of MDA. Now, as MDA's official 2021 spokesperson, he will make an even greater impact in the quest to find a cure.
"Having family members with muscular dystrophy has always motivated me to spend my free time trying to raise awareness, so we can find cures and provide the best care for families across the country living with these diseases," Nyheim says.
As spokesperson, Nyheim will collaborate with MDA to bring attention to campaigns and fundraisers throughout the year, including MDA Shamrocks, the St. Patrick's Day-themed pinup and online fundraising campaign.
Prior to his time as spokesperson, Hines supported MDA through the NFL's "My Cause My Cleats" campaign, an opportunity for players to wear custom cleats promoting an organization of their choice. His cleats included the MDA logo and the names of his mother, grandmother, and uncle, and his participation in the program brought attention to the neuromuscular disease community.
"I want to use the platform I have to make this world a better place," he says.
MDA Resource Center: We're Here For You
Our trained specialists are here to provide one-on-one support for every part of your journey. Send a message below or call us at 1-833-ASK-MDA1 (1-833-275-6321). If you live outside the U.S., we may be able to connect you to muscular dystrophy groups in your area, but MDA programs are only available in the U.S.
Request Information