Christopher's Cruisers Have Raised $10,000 — and They're Not Done Yet
Each year, at a Southern California Muscle Walk, Christopher's Cruisers roll right to — and through — their goal.
For 11-year-old Christopher Perez, the victory is a literal one: He's usually the first of his namesake team to cross the Muscle Walk finish line. And his team — which at times includes 50 friends and family members — usually surpasses its annual Muscle Walk fundraising goal of $1,500. In the seven years Christopher's Cruisers have been on the Muscle Walk road, they've raised more than $10,000 for MDA, Christopher and kids like him.
"We love Muscle Walk," says Sima Perez, Christopher's mom. "It brings awareness. It also helps us to raise funds for MDA.
"MDA is help," Sima says, "and the fact that they're raising funds to find a cure is hope. It may not be during my son's lifetime, but definitely [it's help to] all those other boys that may get it."
Christopher was diagnosed with Duchenne muscular dystrophy (DMD) when he was 2 years old. He'd started walking at 14 months, but over time, his movements looked different, Sima says. She and Christopher's dad, Bernabe, took Christopher to the pediatrician. Testing confirmed Christopher had DMD.
"My next question to the doctor was, 'OK, so he has Duchenne. What's the cure?" Sima says. "And she looked at me and said, 'There is no cure.' That was, to me, one of the hardest times. I had to learn. I had to research and understand what it was that my son was diagnosed with."
At that time, Sima had never heard of MDA. Christopher's doctors connected his family with the local Orange County office. And as everything in the Perez family was changing, they found something positive.
"It felt good to have someone who understood what was happening because I didn't understand, and [MDA] guided us as a family," Sima says. "They provided support in various ways. We're part of a support group. We also take Christopher on a yearly visit to the MDA Care Center. He participates in MDA Summer Camp. MDA has really changed our lives."
Christopher's parents and big sister, Rebecca, help him now with eating, bathing, brushing his teeth, and getting around and out of the house. He started using a wheelchair full-time a year ago and works often with physical and occupational therapists — in between playing video games and eating, two of his favorite activities. He's participated in two clinical trials, including one for Emflaza before its FDA approval this year. He's currently still taking the corticosteroid.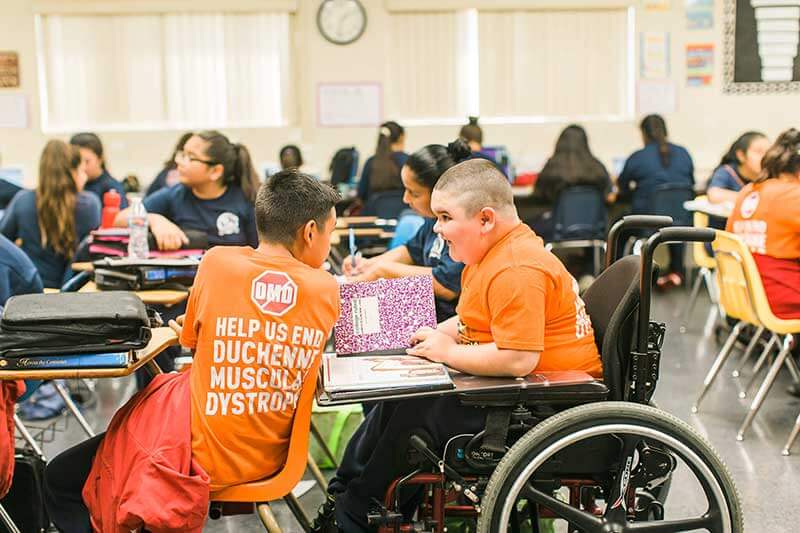 Most of Christopher's days — like any other seventh-grader's — revolve around school. There, his friends, like his parents and sister at home and MDA in the community, are another extension of his family. When walking became difficult for Christopher, his friends formed a buddy system and walked with him. When he transitioned to a wheelchair, his friends pushed him.
"They help me with everything," Christopher says. "Lunch, school supplies, homework, my binder, my backpack. Everything I need, they get, and they're really cool friends because they always help a lot. People don't have to watch me struggle. All they have to do is help. It makes me feel good to have friends like them."
This year, the Perez family has invited all of those friends — Christopher's entire school — to join Christopher's Cruisers for the MDA Muscle Walk of Los Angeles on Sept. 30.
"We're going to expect a large crowd," Sima says. "And we're going to have a barbecue after."
The team's fundraising focus is MDA Summer Camp, another place where Christopher has expanded his family network. Every summer he hangs out with friends he's made, feels cared for by his counselors and loves the food and fun.
"My favorite thing is … mostly everything," Christopher says.
At home, at school, at Summer Camp, at Muscle Walk, Sima wants Christopher to know a whole lot of people are cheering him on.
"He's adventurous," Sima says. "The disease is not taking that away from him. Christopher loves life. He loves his family. And we try to do everything to the fullest. It's hard to say we're living our lives like it's the last day of our lives, but we truly are. Every day's a gift. And Christopher is living that.
"My hope for Christopher's life is that all his wishes come true," Sima says. "I want him to be happy. I want Christopher to know that he's loved."
You can help Christopher's Cruisers raise $25,000 for MDA Summer Camp.