Following in her Father's Footsteps: Daughter Hikes Pacific Crest Trail to Raise Funds for ALS Research
On April 18, 2017 Sophia Spooner set out alone from Campo, California, and began her months-long trek on the Pacific Crest Trail with a goal of raising $25,000 to support MDA.
By the end of her hike, she will have covered more than 2,650 miles.
But her "little stroll," as she calls it, is hardly her first brush with long-distance adventuring. In fact, a tendency toward the extreme might be in her blood. After her father Ray Spooner was diagnosed with ALS (amyotrophic lateral sclerosis) in December 2014, he conceived of and completed "Ray's Little Ride," a cross-country cycling tour from San Diego to St. Augustine, Florida. And like Sophia, Ray did it all in support of MDA, ultimately raising more than $80,000.
Choosing to follow in her father's footsteps was a no-brainer. "From day one of his diagnosis MDA was so involved in our lives," says Sophia. "I knew that if I was going to raise money for anything, it was going be the MDA."
Living with Meaning and Intention
Sophia had just returned from a semester abroad in India when her parents sat her and her boyfriend Yoni down to share the news of Ray's diagnosis in early January 2015. Over the next year and a half, Ray completed his cycling adventure, but his disease progressed unrelentingly.
After earning a degree from Knox College in June 2016, Sophia joined her mother Rae and her brother Manu in caring for her father. "I graduated and came home that day and was really thrown into being a caregiver — learning how to put him in bed, how to brush his teeth," she says. "We were there for each other in a way that I will likely never experience again. That bond that you create doing those things with people is not something that you can get anywhere else."
Thinking of that summer, she says, "It was hard, but it was beautiful. My dad couldn't talk, but every night before he went to bed, he said, 'I love you' to all of us. He couldn't say it, but it was like these breaths. And you knew he was saying 'I love you' to all of us individually."
"When every minute of every day matters more than anything, you really start to know what it means to live every day with meaning and intention. That's what he gave us. He gave us something incredible. I would not be the same person if it weren't for that summer," Sophia says.
Honoring Ray
While at Knox College, Sophia's good friend and Ultimate Frisbee teammate hiked the Pacific Crest Trail, which stretches from the U.S.-Mexico border in California to the U.S.-Canada border in Washington. "I was totally in awe of it," she says. "It kind of started as a seed in my head as 'This something I could do.' Then my dad got sick, and I thought, 'this will be something that I'll need after he passes.'"
Confronting an illness like ALS forced Sophia to reevaluate her life. "I knew that comfort was my worst enemy," she says. "It would have been easy for me to work and live with my mom and save up money. I knew I really just wanted to get outside of my comfort zone and do something that I really had no experience with."
Though she and her father — an avid hiker — never did a big hike together and she had limited hiking experience before she set out, Sophia says, "I know that he would be really blown away and proud of me."
Although she is hiking alone, Ray is never far from Sophia's thoughts.
"There are definitely times where I feel very connected to him," Sophia says. "Everyday you're like, 'This is the best day ever,' and then fifteen minutes later, 'This is the worst thing I've ever done.' Fifteen minutes later, you see something incredible. And you think, 'I wish he could see this.' It's just all a natural progression. Your worst day can turn into your best day in a matter of minutes."
Sophia's boyfriend Yoni will be joining her "around mile 520," and her brother Manu came along for a couple of days in July. She also has a "hiker family" of five people whom she met along the way. "The thing with the Pacific Crest Trail is that you're never alone. You have to work hard not to be around people," she says.
Sophia says she will finish the trek at the end of September or the beginning of October, having traversed hot deserts, snowy mountains and rain forests. Aside from the research into treatments and cures for ALS, the money she is raising for MDA will also help other experience the beauty of nature, and that thought has sustained her on the trail.
"Something that I feel inspired by are the summer camps that the MDA runs for kids," Sophia says. "I can see what the outdoors can do for people, and I can see the therapy that it gives people. MDA Summer Camp gives young kids the opportunity to have that experience when they are denied a lot of other things that healthy kids get. I think that's incredible and really, really valuable."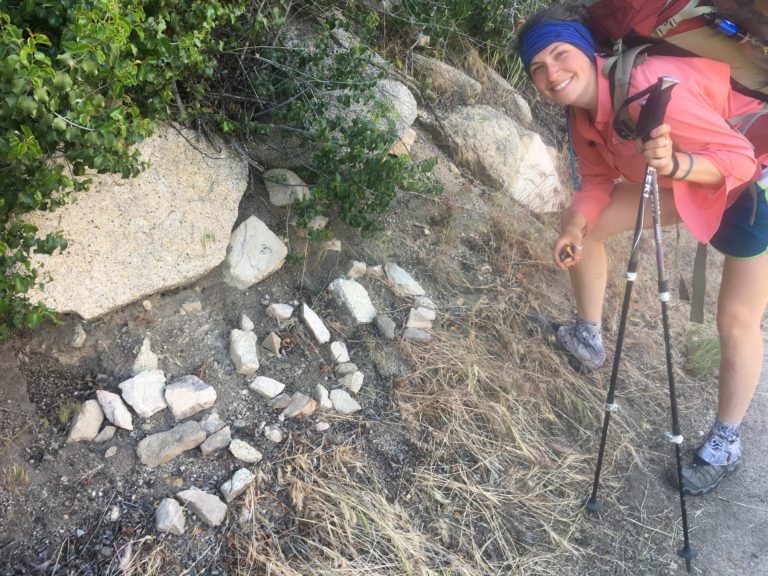 She'll have plenty of time to reflect on the restorative power of the great outdoors as she continues on her way northward. She will also have ample time to reflect on Ray and his legacy.
There was one night on the trail when Sophia felt particularly close to her father. She was camping "in this crazy, horrible, dry riverbed" under a full moon. "Before my dad passed, he gave my siblings and me an album that he thought that we needed to listen to more. He assigned me Transformer by Lou Reed, and there's one song on it called 'Perfect Day' that describes a perfect day but how there's really no such thing as a perfect day. I put it on and watched the full moon," she says. "Moments like that are hard because you feel him and you know he's gone. But it's also nice to feel his presence there."
You can help Sophia raise $25,000 to fund MDA Care Centers.