Innovations in Science
We're accelerating the delivery of treatments and cures.
Medical Education and Resources
MDA is offering a series of educational programs developed with the country's top thought leaders and experts for clinicians who manage and treat individuals with neuromuscular disease.
MDA Grand Rounds Webinars
Best practices and practical clinical consideration in the management and care of individuals with NMD.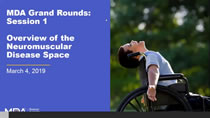 Overview of the Neuromuscular Disease Space
MDA Considerations in Care Case Studies
Coming Soon! Explore multidisciplinary clinical decision making through the lens of patient case studies.
MDA What's New In… Presentations
Expert-crafted speaker slide series on current topics in the Neuromuscular Disease space which can be leveraged for relevant talks or used as reference materials.

ALS Speaker Slides
The MDA Medical Education team has partnered with Dr. Robert L. Sufit and Dr. John M. Coleman from the Northwestern University Feinberg School of Medicine to create a detailed presentation discussing the multiple aspects of ALS care. These slides will help physicians to learn more about the diagnosis process of ALS, the mechanism of disease, and how to proactively manage symptoms. The MDA invites clinicians in our community to use this resource to educate other providers on the nuances of ALS care.
MDA Monthly Report
MDA's Monthly Report eNewsletter provides a summary of recent and important updates and events for clinicians and researchers working in neuromuscular disease. Click here to access our archived issues.