At MDA, we begin 2016 with families at the heart of our mission, literally with a heart representing them in our refreshed logo design. As we continue to fight with and for individuals with neuromuscular diseases — and the families who love them — we are excited to introduce new offerings and enhancements to help the kids and adults we serve live longer and grow stronger. This year, you will see a number of new and improved services to help provide better care and accelerate progress for our families: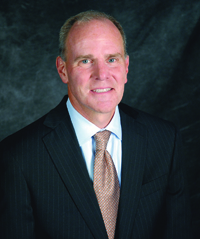 This spring, we will introduce our first national MDA Resource Center that individuals can call to obtain one-on-one information and support from MDA specialists. From providing disease-specific information to assistance with finding local resources, we will be here to guide families through every step of their journey. 
We will add to the more than $1 billion we've invested to date in research aimed at accelerating therapy development.
We will implement enhanced standards of care at all MDA Care Centers (formerly MDA Clinics) because early diagnosis, highly specialized care and access to promising clinical trials help ensure the best possible outcomes for families.
We are evaluating our offerings for teens and young adults, and plan to improve and expand support for individuals transitioning into adulthood and living independently. 
After surveying thousands of families, supporters and Americans, we have launched a revitalized MDA brand reflective of the needs and desires you have told us you want and expect from MDA. In addition to a new look and feel, you'll notice Quest has a fresher, more modern design with updated colors and imagery. 
This summer, we will launch a campaign called Live Unlimited to unite consumers, companies and everyday Americans.
While focused on finding urgent solutions today, we also have a long-term plan to fuel future discovery and impact. With a new strategic plan in place, we intend to achieve the following goals for our families by 2020:
CURE: Double our research spend on drug development and clinical trials to bring more treatments and cures to families.
CARE: Provide care and support for 50,000 more families — a 50 percent increase over the number of families registered with MDA today.
CHAMPION: Fund 20,000 kids at MDA Summer Camp at no cost tofamilies as we expand our offeringsfor young adults.
Our families inspire us every day as they break down barriers with a remarkable can-do spirit — whether it's crossing the street in a wheelchair, graduating from college or even skydiving. The courage our families show in defying limits is the inspiration behind MDA's revitalized brand. 
I'm also proud to announce that Joe Akmakjian, a 24-year-old marketing specialist in Fort Collins, Colo., and MDA volunteer extraordinaire, will serve as MDA's National Goodwill Ambassador and family spokesman for 2016. This is the first time in our history a young adult is in this role, marking a new era in our work and signifying the progress we are making together. Be sure to read more about the new brand and take a moment to meet Joe in The Heart of Our Mission. 
Thank you for your passion and partnership as we work together for strength, independence and life, as it says in our new tagline. We invite you to explore the new-and-improved MDA website and join our collective movement today.
Steven M. Derks
President and CEO
Muscular Dystrophy Association
MDA Resource Center: We're Here For You
Our trained specialists are here to provide one-on-one support for every part of your journey. Send a message below or call us at 800-572-1717. If you live outside the U.S., we may be able to connect you to muscular dystrophy groups in your area, but MDA services are only available in the U.S.