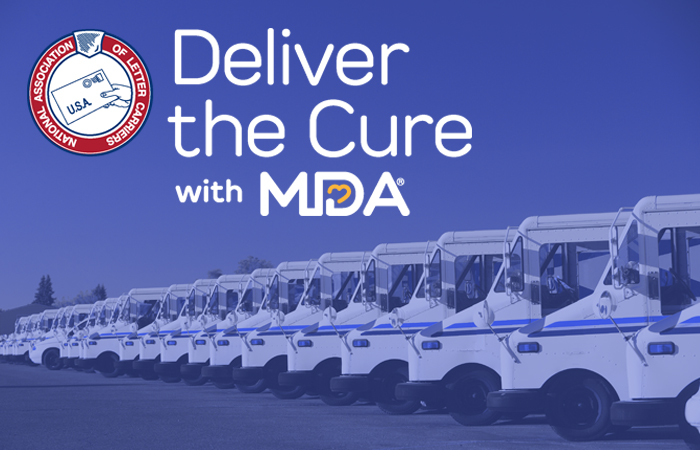 A veteran letter carrier shares his connection with MDA
For Ed Walsh, who has been a U.S. Postal Service letter carrier for 23 years, getting involved with MDA came naturally. Walsh is a member of the National Association of Letter Carriers (NALC) Branch 358 in New York. NALC was one of MDA's first national sponsors, originally partnering with MDA in 1952. Beyond that official partnership, Walsh and his fellow branch members have found personal connections to MDA. 
For Walsh, the cause hit home 12 years ago when he met his colleague's nephew, Derek, who has Duchenne muscular dystrophy (DMD). 
"I met Derek, and I saw that he wasn't giving up," says Walsh. "When you see a 4-year-old running in braces playing with his bigger brothers, trying to do what they're doing, you're inspired. We had to work for everything growing up in a low-income area, and seeing Derek trying his hardest, it felt like a great fit."
Walsh is now the lead MDA representative for Branch 358, and he helps to organize fundraising events throughout the year — from satchel drives to golf tournaments to bowl-a-thons. Walsh estimates that, over the 14 years they've been doing these events, Branch 358 has raised more than $270,000. In its 65-year history with MDA, NALC has raised more than $100 million. 
For Walsh, who lives in Wynantskill, N.Y., with his wife and two children, every event is his favorite, because it means he gets to raise money for a great cause while spending time with his co-workers, family and friends. 
"Community service in 358 has always been a branch effort," he says. "We're out there doing events, and the reason is Derek — and all the people affected [by neuromuscular diseases]. When you have such a strong bond, that gives you the go and the energy. I try to make it infectious, because that's what I believe." 
---
Get Involved
Find your passion, and get involved in the MDA community in a way that's meaningful for you. Meet our partners, and learn more about our dedicated partners like NALC that work year-round to help MDA families. 
MDA Resource Center: We're Here For You
Our trained specialists are here to provide one-on-one support for every part of your journey. Send a message below or call us at 1-833-ASK-MDA1 (1-833-275-6321). If you live outside the U.S., we may be able to connect you to muscular dystrophy groups in your area, but MDA programs are only available in the U.S.
Request Information