Two Friends and One Wheelchair on the Pilgrim's Way: Justin and Patrick Live Unlimited on the Camino de Santiago
Justin Skeesuck and his life-long friend Patrick Gray were resting in a cafe in Spain, as the sun started to dip toward the horizon. They were 250 miles into their journey on the Camino de Santiago, a 500-mile trail which starts in France and ends at the Cathedral of Santiago de Compostela in Spain.
One last steep mountain pass stood between the two friends and the final half of their crazy, grueling journey. They were going to tackle the mountain that evening, with Justin in his wheelchair and Patrick, as always, pushing.
Patrick stood up to leave with a couple helpful fellow pilgrims, and suddenly, the entire cafe rose with him. They all wanted to help.
These people picked Justin up in his wheelchair and carried him up the mountain.
"It was like being in the middle of a human symphony," Justin says. "Other pilgrims joined in, as did some policemen they met along the way."
They pushed, they pulled and they carried Justin through woods and hamlets, across roots, rocks and ruts. They were smiling through it all, happy to help.
"By the time we got to the top there were 17 people," Justin says. "Seventeen people who had helped me get up to the top of that. It was by far the craziest thing that Patrick and I have ever been a part of."
For Justin, on that day in the summer of 2014, living unlimited meant letting others in. It meant letting others help. It meant letting others push, pull and carry him.
"When you deny someone the opportunity to help you, you deny them the joy in life," he says, describing the joy he witnessed on that day. "I had to allow people into that and to let down my guard and to bring people into my story, my journey. It was truly an amazing day. A very difficult day, but we made it. We made it all the way to the top."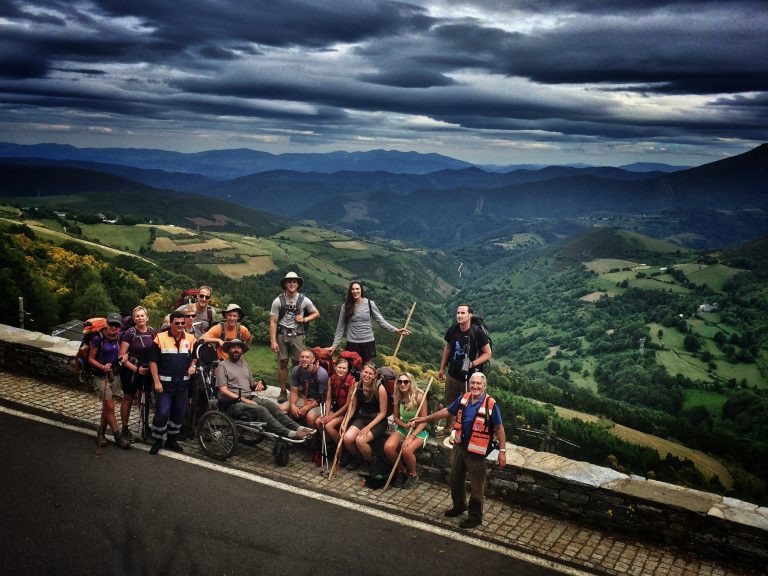 The pilgrims and police who helped Justin and Patrick up the O Cebreiro mountain pass gather for a celebratory photo at the top.
Justin has multifocal acquired motor axonopathy or MAMA, a rare, progressive neuromuscular disease.
He first experienced weakness in his left foot when he was 16 years old, about six months after walking away from a bad car accident. Now he cannot move his arms, legs, hands or feet, and uses a power wheelchair to get around. His wife is his primary caregiver, though Patrick steps in from time to time — Justin refers to him as the vice president of his inner circle.
Justin and Patrick were born 36 hours apart. Their mothers went to camp together. Justin's great-uncle was Patrick's grandfather's best man.
The two men don't remember a time when they weren't in each other's lives.
"When we live a life where we don't let others in — we don't invite them into the story that we have been given — we're limiting ourselves so much," Patrick says of Justin. "He has invited me into that in every way, shape, and form, and as a result, he has shown me how to live life in a way that is not limited."
So, in the spring of 2012, when Justin talked to Patrick about traveling the entire Camino de Santiago, Patrick had a simple answer:
Patrick, Justin, and a friend pause on the Camino to enjoy the sunrise.
It was easier said than done. But the two men have a certain mantra that kept their eyes on the big prize.
"We focus on our why, not the how."
That means paying less attention to the details and more to the motivation.
"It's more of a condition of the heart for me. This is something I believe in, this is something I want to do," Justin says.
"It's not just crossing your fingers and hoping everything will be OK," Patrick explains.
"You will push through any barriers to make sure that things happen because you are so focused on the why," he says, addressing Justin. "[It'll] work out because you won't take no for an answer."
And things do seem to work out for the pair. When they encountered a tiny, European hotel elevator, they were able to borrow a rolling chair from a front desk clerk. When a wheel snapped off Justin's special off-road wheelchair after conquering the Pyrenees mountains, they happened upon a welder.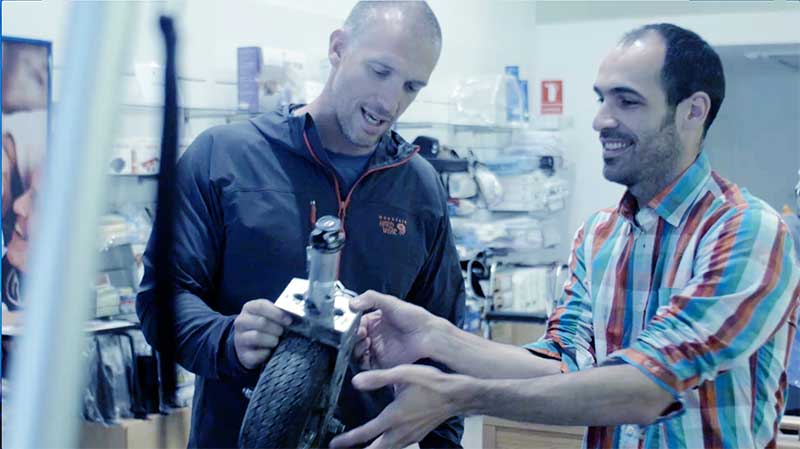 On the second day of their journey, after getting over the Pyrenees mountains, a wheel snapped off of Justin's wheelchair. Locals helped the friends find a medical supply store, where they met the welder who would fix the chair.
"It's not always going to be perfect, it's not always going to be how you perceive it to be," Justin says. "But I think that's the beauty of life, that's the beauty of this journey that we're on, is that people will come alongside of you either for a split second or for a lifetime and anywhere in between, and they will help you figure out the how."
And they did.
With the help of locals, fellow pilgrims and friends, plus plenty of their own tenacity, the two men traversed three mountain ranges and hundreds of miles.
The trail was at times dusty, rocky, and nearly vertical, or worse, so muddy that it sucked at Patrick's feet, sapping his energy with every step. It didn't help that Justin in his off-road wheelchair, plus the group's gear, weighed about 250 pounds.
But after 34 days on the Pilgrim's Way, Justin and Patrick arrived at the Cathedral of Santiago de Compostela.
They did it. Both Patrick and Justin, no matter the obstacles, finished the Camino. They did it because they pushed each other.
"We are constantly pushing each other to be better on every front of our lives," Patrick says. "That is what has instilled in me a deep, passionate, brotherly love for this man, who just makes me better in every way."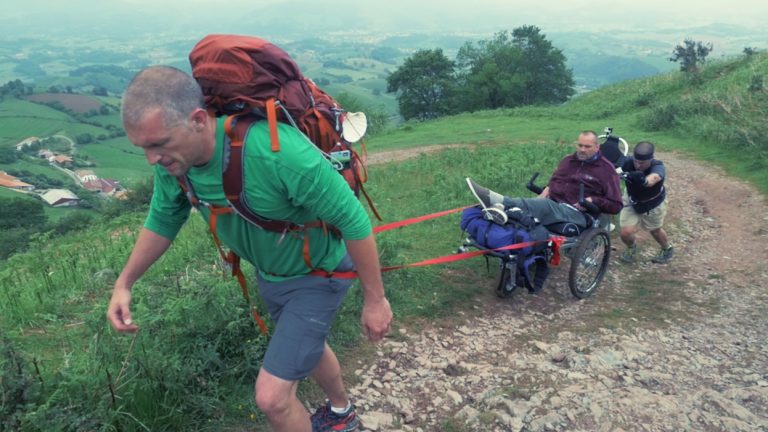 Patrick pulls Justin, with the help of a friend, during their trip over the Pyrenees mountains.
Now the pair have written a book about their unique friendship, they work together at a company they started after completing the Camino and they are looking forward to the premiere of the documentary film about their journey, premiering in November.
Patrick and Justin lived life unlimited on the Camino, and they continue to do so together, with their mantra always in mind.
"We've had so many crazy adventures because of this mindset. That's what allows you to live life unlimited," Patrick says, explaining that they both simply don't accept the strictures of society. "There is no measuring stick to put ourselves against. We are the ones who are going to determine what we do and what we don't do. Period. And as a result, really cool things happen."
You can help Justin and Patrick raise $25,000 to fund MDA research efforts.