Living With
Dear Friends: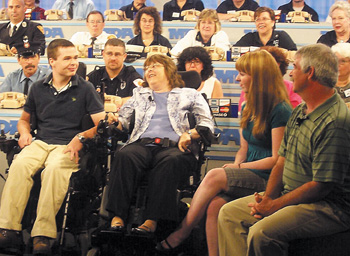 If you are reading this, it's probably because you or a loved one has just received a very bewildering diagnosis: mitochondrial myopathy. What is a mitochondrial myopathy, and what does the term mean? These are questions my wife, Jennifer, and I struggled with when our son, Michael, got his diagnosis.
Mitochondrial myopathies have many different faces. As this website describes, numerous varieties of mitochondrial diseases have been identified, with a complex array of symptoms. Some symptoms can be so mild that they're hardly noticeable, while others are life-threatening.
Michael's disease causes muscle weakness, muscle cramping, fatigue, lack of endurance and poor balance. You or your family member may have similar symptoms, yet each case is unique.
When we first learned that Michael had a mitochondrial myopathy, we naturally were very frightened and uncertain about the future. As time passed, we learned that we can do things we didn't think would be possible — we can adapt to the uncertainty, control the fear, cope with changes as they occur and still have a "normal," happy family life.
A few years after Michael's diagnosis, our lives were again turned upside down when my wife, Jennifer, learned she too had a mitochondrial disease. Jennifer's symptoms are more severe than Michael's; she experiences extreme muscle weakness, fatigue, gastrointestinal problems, respiratory problems and difficulty swallowing. She also requires a feeding tube, a ventilator and assistance with everyday tasks.
This website was prepared to help you understand the causes of and treatments for mitochondrial myopathies. We have found information to be a vital tool in managing Michael's and Jennifer's diseases, and achieving the best possible outcome.
From this website, you also may learn a few encouraging things. For example, although these are rare disorders, many of their symptoms are common in the general population, such as heart problems, seizures and diabetes. Therefore, good medical treatments already exist to help manage many symptoms.
Always remember that researchers are continually moving toward better treatments, and ultimately, cures for mitochondrial diseases. In addition, people with disabilities have greater opportunities than ever before to make the most of their abilities, as well as legal rights to equal employment opportunity and access to public places. Children with physical and cognitive disabilities are guaranteed by law a public education with whatever supports they need.
To us, Michael is not a victim of a disease or a syndrome, but a happy, loving, young man of whom we're very proud. We've discovered that no one can predict exactly how Michael's or Jennifer's cases will progress. We've been blessed to see Michael lead a normal life, earning his Boy Scout Eagle Award and being inducted into the National Honor Society. Now, he's in college and is making the Dean's List every semester. Michael has shown that having a mitochondrial disease doesn't necessarily keep you from accomplishing anything you set your mind to.
As we struggle to adapt to the changes in our lives since Jennifer's diagnosis, it's reassuring to know that MDA is there for us, assisting us with loans of medical equipment, equipment repairs, clinics, continuing research and just a friendly voice that understands what we are going through.
As you face the challenges ahead, we wish you the same blessing and the comfort of knowing that you are not alone.
Richard Kelly
Mansfield, Massachusetts