Living With
Dear Friends: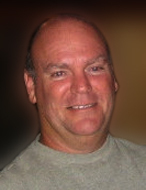 In 1992, at the age of 32, I was diagnosed with inclusion-body myositis (IBM). About six years later, my youngest sister Celeste learned she also has IBM, which gave us both a diagnosis of hereditary inclusion-body myositis, or HIBM — the kind of IBM that runs in families. MDA classifies HIBM as a distal muscular dystrophy.
Through the years, adaptations have been made to accommodate the changes to my body due to the disease. For example, ankle-foot orthotic braces help me tremendously. After 20 years of wearing them, I am still capable of standing and moving around. As my disease symptoms have progressed, I've come to view my power wheelchair as a remarkable asset. It takes me almost anywhere I want to go, including sea cruises, which have been wonderful experiences.
I keep myself so busy that lately my biggest problem has been finding the time. My former career was in the furniture/kitchen manufacturing business. Woodworking was my life. Sadly, I had to retire due to my disability. But I never really stopped working. I went forward with a business called The Cookie Nook. I came up with the idea, wrote a business plan, and a year later we were baking cookies and delivering them nationally. It was a lot of fun, but my love of sawdust was still there. So, eventually, I sold the cookie business.
A power tool called a scroll saw was my door back into woodworking. A small tabletop machine, it gives me the ability to create intricate items made from exotic hardwoods. Scrolling allows me to express my creativity while sitting down; it's something I truly enjoy doing. Thus began my second post-diagnosis business, Wood Crafts by Chris.
Shortly after my diagnosis, I became involved with the Muscular Dystrophy Association, and it's become a big part of my life. The staff is wonderful, very helpful in every aspect and the doctors are top notch. They really care about each and every one of us. MDA and all its resources are there to help you and your family. My sister Celeste is also an active member of the MDA family. Together we have been involved in case studies and experimental treatments: positive research with promising results.
While MDA's research program continues making strides toward better treatments and a cure, it's also good to know that people with disabilities have more opportunities than ever before to develop and use their abilities, and that the laws entitle us to equal employment opportunities and access to public places. 
I hope that hearing my story will provide you and your loved ones with some encouragement about life with muscle disease. And always remember, you're not alone!
Chris Fosmire
Boynton Beach, Florida