Innovations in Care
We provide access to support and programs that empower the lives of people living with neuromuscular diseases.
MDA Engage - California
Saturday, November 11, 2023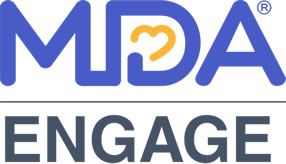 9:00am - 4:30pm
Paul and Mildred Berg Conference Center, La Ka Shing Building
291 Campus Drive, Stanford, CA 94305
Join us for this one-day educational event for the neuromuscular disease community. Each symposium offers multiple learning sessions focused on increasing disease understanding, navigating critical life transitions, and supporting access to independence.
Being held at Stanford University on November 11, this Engage symposium will offer two disease-specific tracks, myotonic dystrophy (DM) and myasthenia gravis (MG), as well as a Quality-of-Life track with sessions that are applicable to all individuals living with neuromuscular disease. Attendees will also have the chance to connect socially with others in the community and browse our Community Resource Hall to learn more about other local community, government, and industry organizations.
MDA is pleased to have Dr. John W. Day, Professor, Neurology & Neurological Sciences Director, Stanford Neuromuscular Disorders Program at Stanford University, presenting the Keynote Address.

John W. Day, MD, PhD
Professor, Neurology & Neurological Sciences Director
Stanford Neuromuscular Disorders Program
Stanford University
This program is provided at no cost, but registration is required. Breakfast and lunch will be served.
Check back soon for a complete agenda!
Thank you to our symposium supporters: